Mim's first look as Panna Kaiser purveys nostalgia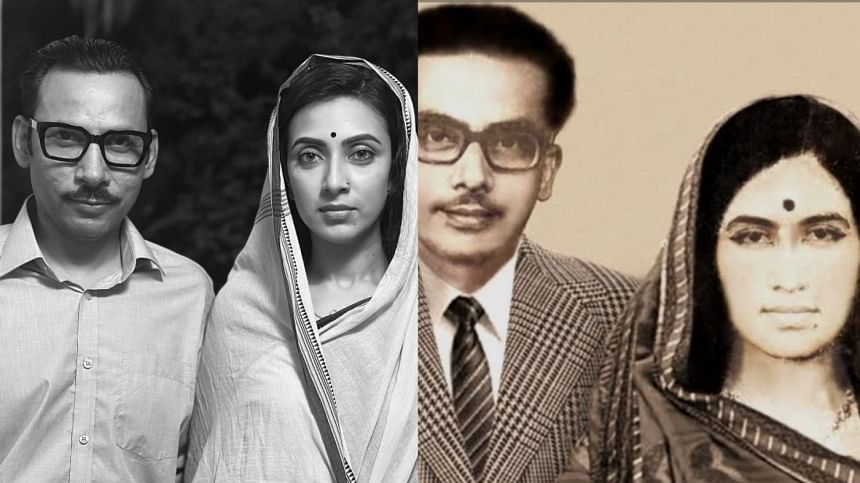 Earlier today, Bidya Sinha Saha Mim finally unveiled what her character looks like in her upcoming film, "Digante Fuler Agun". Mim, along with her co-star Mostafa Monwar, recreated the late intellectual couple, Shahidullah Kaiser and Panna Kaiser's photo together.
Their recreation has already accumulated well wishes and accolades from peers and fans alike, with many looking forward to watching the film. According to Mim, in "Digante Fuler Agun", she will be portraying the role of late author and lawmaker, Panna Kaiser, who passed away five days ago on August 4.
Upon the multifaceted intellectual's passing, Mim expressed her deep sorrow over missing the chance to meet the legendary Panna Kaiser. Mim's preparation for the role had been an immersive journey, delving into books and television interviews to grasp the essence of Panna Kaiser's life and experiences. She looked forward to engaging in face-to-face conversations with the luminary, expecting to gain insights and wisdom, alas that could not come to fruition.
"Digante Fuler Agun" is directed by Wahid Tarek. The movie received a government grant for the year 2018-19. The shooting of the film has already started. Besides Mim, Mostafa Monwar will play the role of journalist and novelist, Shahidullah Kaiser.