Mahira Khan married to businessman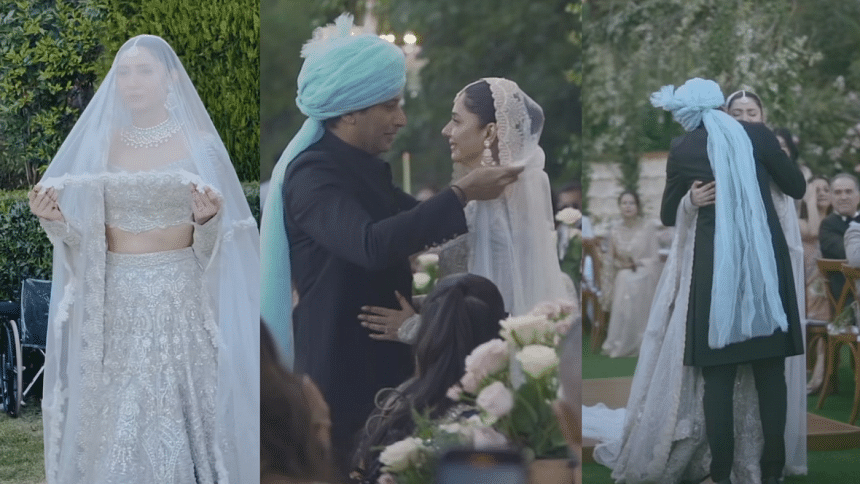 The gorgeous Mahira Khan enchanted audiences with her performance in "Humsafar" and her debut in Bollywood with "Raees." The actress enjoys millions of fans and it seems she has finally found her soulmate in her close friend Salim Karim, yesterday. 
Mahira Khan tied the knot with Salim Karim, a businessman by trade. Her manager, Anushay Talha Khan, shared a video from the wedding on her social media. 
The "Humsafar" actress looked breathtaking in a stunning pastel lehenga with an extensive sheer veil. She also chose matching diamond jewelry. Salim was dressed in a blue turban and a black sherwani. The couple married in an outdoor ceremony in Murree, Pakistan.
The bride was glowing with happiness while she walked towards the groom with a smile on her face. The cheering crowd clapped for the couple, while Salim was overwhelmed with emotion as he began to complete a start of a new journey with his beautiful wife. 
Salim hugged Mahira once she unveiled her veil, and the couple's warm chemistry was all things love. 
Earlier on, Mahira revealed her relationship with Salim while speaking with Samina Peerzada. When asked if she was in love in 2022, Mahira smiled and nodded her head. "I believe I am in love. I'm not sure, I'm so shy about it," Mahira admitted. She also stated that he was not from the industry.
Mahira Khan married childhood sweetheart Ali Askari in 2007, and the pair share a 13 year old child named Azlan. 
Mahira revealed on the FWhy Podcast that she married when she was 17 and relocated to Los Angeles since Ali was residing there. She added that things were very difficult for her there, and with the birth of her son Azlan, she recognised that this marriage would not work. Mahira planned to travel to Pakistan with her parents after eight years of marriage in order to become independent.