Jaya Ahsan in and as "Ardhangini"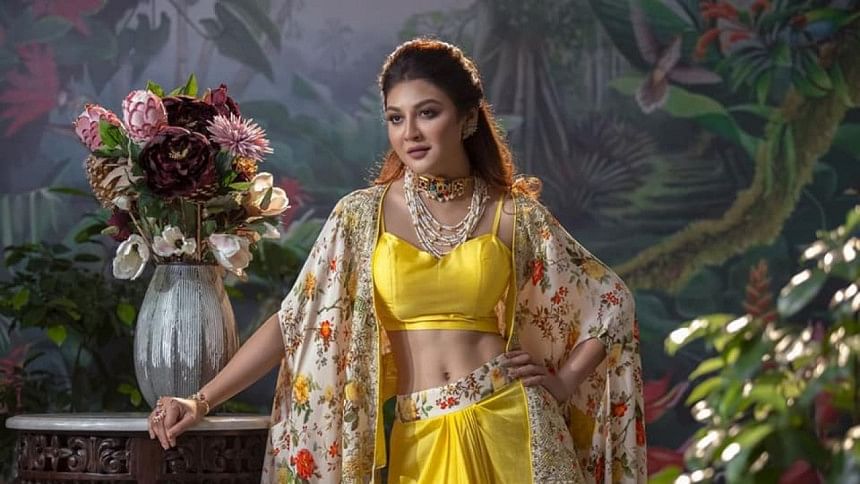 Popular in both Bengals, Jaya Ahsan's upcoming film, "Ardhangini," is set to release in India on June 2. The Kaushik Ganguly directorial project will star Jaya in the leading role. 
Confirming the news to The Daily Star, Jaya Ahsan said, "The story of the film is very strong and appealing. The film portrays the tale of two strong women. The audience will discover me in a new way through 'Ardhangini'."
"Kaushik Ganguly always works with the utmost care and dedication. I have had wonderful experiences working with him," she added. 
Although the shooting of the film was completed a long time ago, it was delayed due to COVID. In response to a question, Jaya Ahsan said, "This was one of the films that stuck due to COVID.  I am very happy that the film is finally releasing."
"I will definitely go to Kolkata to promote the film. I have plans to watch the film with the audience in the theatres. I believe the audience will have a good time watching the film," the actress added. 
After "Bishorjon" and "Bijoya," this is the third time Jaya and Kaushik are working together. The film also features Churni Ganguly, Kaushik Sen, and Ambarish Bhattacharya. 
Meanwhile, Jaya starrer "Peyarar Shubash" has been selected in the main competition section at the 45th edition of the Moscow International Film Festival. On April 26, the Nurul Alam Atique directorial film had its world premiere at the Moscow International Film Festival 2023.  
"This is great news for me and my country. I hope our films will spread around the world like this," said Jaya. 
On the other hand, several new films starring Jaya Ahsan are awaiting release in Bangladesh and India. "Nakshi Kathar Jamin" based on the story of Hasan Azizul Haque, is awaiting its release in Bangladesh. The film received many positive reviews and bagged awards from international film festivals before its release.