I would hack everyone's accounts to make them watch 'Antarjal': Siam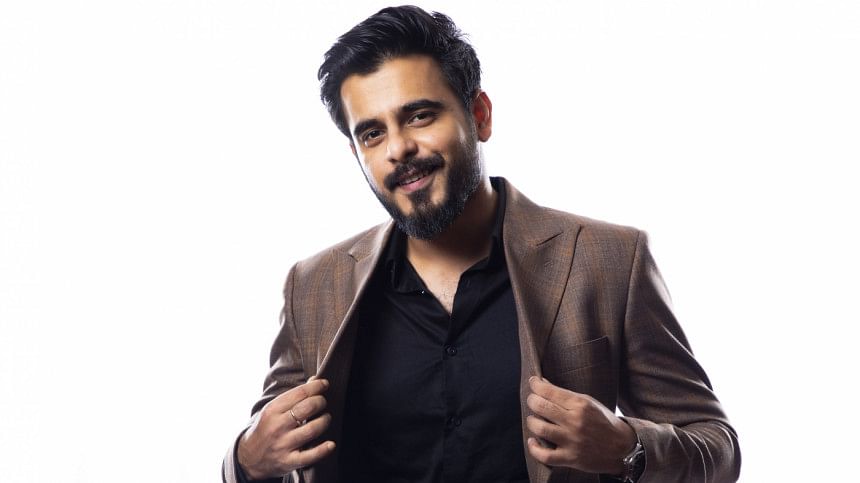 After a long wait, "Antarjal" is finally gracing theatres today. Siam Ahmed, portraying the enigmatic Lumin, is all set to unlock the cryptic codes to our hearts with his captivating charm and endearing friendship with his pet, Totto.
Siam is over the moon as "Antarjal" achieves a significant milestone by premiering in 150 cinema halls across America and Canada, alongside 35 theatres in Bangladesh.
In a candid conversation with The Daily Star, the actor opens up about his encounter with the real-life Lumin and much more.
'Antarjal' will be releasing in 150 international halls. How excited are you?
For Bangladeshis living abroad, the prospect of watching local films on the big screen is always eagerly anticipated. This is a wonderful opportunity for expatriates to enjoy "Antarjal", as they wouldn't have to wait for reviews before catching it in their nearest theatres.
Lumin's sole family member is his pet Totto. What makes their bond so special?
Not everyone is blessed with family members. For Lumin, his closest friend and confidant is his faithful pet, Totto, who refuses to eat unless he returns home. Their connection is more than a conventional master-pet relationship.
I got to interact with Totto during the shoot for nearly two and a half months and our bond shines through, in the film. However, credit must also go to our director, Dipankar da, who involved his own dog and guided him through each scene. Nowadays, our cinemas don't showcase scenes which cater to animal lovers. Through this film, we aim to relay the message that animals can be your best friends.
What was it like interacting with the real-life Lumin?
Initially, I had my doubts about him. We first met at a coffee shop, which he believed was the best spot for Wi-Fi. It took nearly an hour to understand his thoughts, as he was quite cautious about his privacy. But beneath the surface, he harboured dreams of reaching Nasa and then returning to Bangladesh to fulfill his other aspirations.
Once, I asked him several questions so that I could shape Lumin's appearance. I inquired about his clothing choices and how he used to style his hair two-three years ago. He was curious about my questions, so, I explained the reason. He then checked his security and sent me 150 pictures of himself. He is quite an eccentric person. To this day, he texts me whenever he plans his next venture.
If you had the chance to hack anyone's account, who would it be?
Ah, that's an intriguing question! I had this idea for a promotional stunt where we would hack the social media accounts of ten specific individuals. Upon opening their accounts, they would see the message, 'Antarjal coming to theatres on September 22.' Unfortunately, my request was denied, but who knows what the future holds? We might just hack your account and make our presence known.