I support Argentina for Maradona: Pori Moni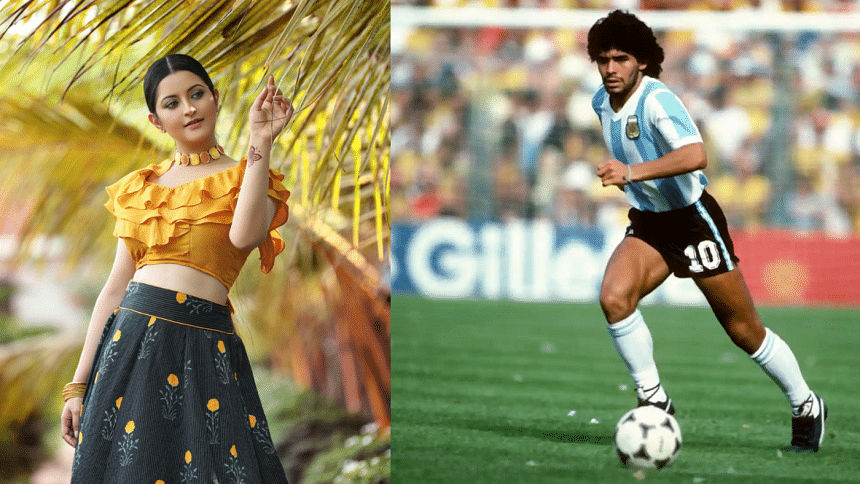 The FIFA World Cup 2022 will officially kick off today in Qatar, and fans can't keep calm as they wait in anticipation for their team to win the golden trophy. Shades of yellow and blue emerged across the houses of Bangladeshi fans, as many hoisted Brazil and Argentina flags over their house. The madness over football has swept into the hearts of celebrities as well.
Dhallywood actress Pori Moni opened up about her favourite team Argentina and how Maradona made a place in her heart.
Which is your favourite team in the FIFA World Cup?
Argentina is my all-time favourite team, while Razz prefers Brazil – so it will be lots of fun as we both compete to support our team in this world cup.
How long have you been fan of Argentina?
I fell in love with Argentina when I saw Maradona for the first time. He literally spellbinds everyone with his magical moves on the field. I have given up my heart to Argentina for Maradona.
People have started putting up flags over their houses. How many flags have you put up?
Frankly speaking, we have only one flag in our house, which is the Bangladeshi flag. I love my country, and no other country's flag can ever replace its value in my house. However, we have brought two jerseys- mine represents Argentina while Razz's is that of Brazil.
Do you have anything to say about Brazil?
It's true I am a die-hard fan of Argentina, but that doesn't mean that I am jealous like fans of other teams. Brazil has a lot of wonderful players including Neymar Jr. The FIFA World Cup is just entertainment for me, and so I wish people would think of it as a game only and not something to quarrel about.
Have you ever put a bet on your favourite team?
Nope, I consider football as a game only that needs to be watched and not betted on. One should just spend time with their loved ones and enjoy the game. Nothing can beat that thrill for sure.
Who do you think will win the golden trophy?
It's really hard to say which team will take home the trophy. All the teams have a fair chance of winning but only one of them will win. However, I am hopeful that Argentina will win this year and I want to watch Argentina vs Brazil in the final. It will be one hell of a match, and I am sure fans all over the world will enjoy the game.