I only have one wife: Mahi's husband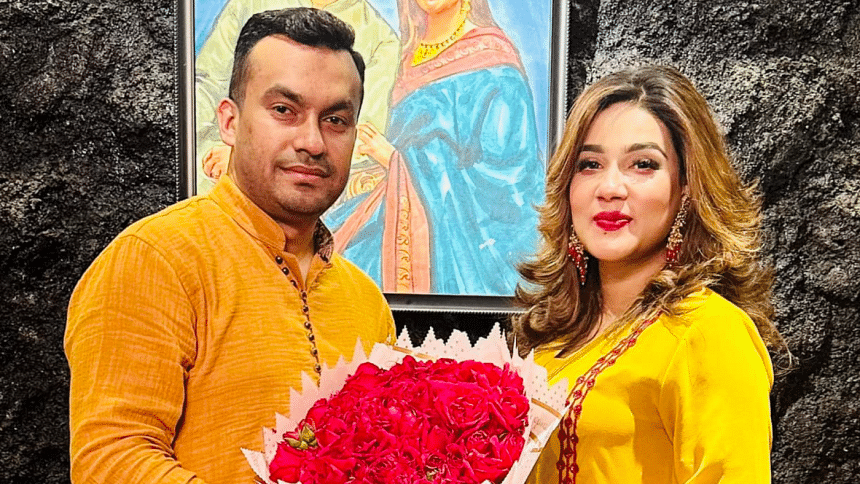 Noted actress Mahiya Mahi tied the knot with Rakib Sarker in September 2021. This was the second marriage for both Mahi and Sarker. Last Saturday, Rakib Sarker took to social media, posting a picture of his loving wife.
He captioned the photo: "I am the photographer of my only wife..."
In the comment section, a netizen joked that it should be "dui matro bou" (second wife), as Rakib was previously married to someone else.
Replying to the comment, Rakib Sarker wrote, "I only have one wife. After a divorce, your 'wife' isn't your wife anymore."
Yesterday, after seeing the post, Mahiya Mahi took a screenshot of it and posted it on her own Facebook account. She wrote, "I will be writing this date in my diary. I have been waiting to hear this one line from you (Rakib). Beloved, you will be the only photographer, for your only wife, until death."
Back in 2019, Rakib Sarker had parted ways with his first wife. Regarding this, Mahiya Mahi told the media that she was aware of Rakib's previous marriage. She clarified that Rakib and his previous wife had already parted ways when he and Mahi first met.
After their marriage, Rakib never spoke about his first wife to Mahi, which troubled the actress at times. However, after this recent post and comment from Rakib, the actress seems to be beaming with joy. Mahi also stated that Rakib's love for her is pure and that he is always supporting her.