How a 3-minute song elevated an entire film
An eccentric genius by the name of Hashim Mahmud has been in the limelight for the last few days, for all the right reasons.
"Hawa" – the film which has already blended a mysterious, alluring narrative with one of the most tasteful, engaging promotional campaigns in recent memory, has struck gold with "Shada Shada Kala Kala", a masterclass in rustic songmaking.
Hashim allegedly fell in love with a girl, who was reportedly studying on Lalon Shah in Kushtia, and sang the words from his heart in her honour. While the singer neither confirms nor denies this origin, many choose to believe it anyway, to give the song even more depth in their suspension of disbelief.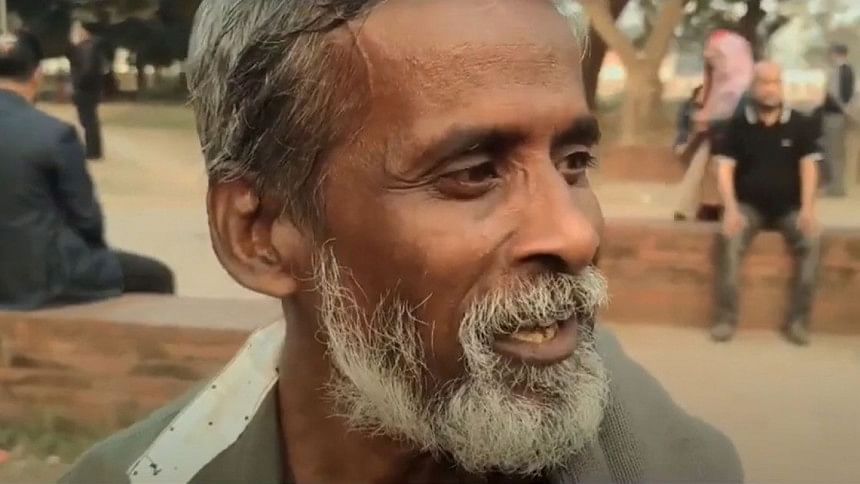 "After searching for four months, I came to know that Hashim bhai was ill, and did not frequent Charukala anymore. I got the permission to use his song in 'Hawa', but he could not sing the version for the movie despite our best efforts," said Sumon.
Arfan Mredha Shiblu, who was often around Hashim during his jamming sessions, was the one to give his voice to the film track. "Five generations of Charukala students have grown up listening to Hashim bhai, and it was an honour for me to voice his song", said Shiblu.
Sumon, who was a student of Charukala himself, perhaps wanted to reward this urban legend—which culminated in this banger of a song.
Shiblu, who had worked as a location manager with Sumon, regularly went on set to internalise the feel of the song. An experienced theatre actor, he put forth all his passion and character work into bringing a sense of addiction into his lines.
The concept of only using percussive instruments was Sumon's vision, which was brought to life by Shiblu, music director Emon Chowdhury, and percussionist Mithun Chakra.
"When Sumon bhai narrated the concept to me, I knew I had to make something special," said Emon Chowdhury. "He wanted the subjects on-screen to portray the idea that they were playing whatever was at hand, but at the same time, wanted an 'epic' vibe to it."
Custom boat-parts, including the helm and sides, and water containers, among other paraphernalia, were included in the song.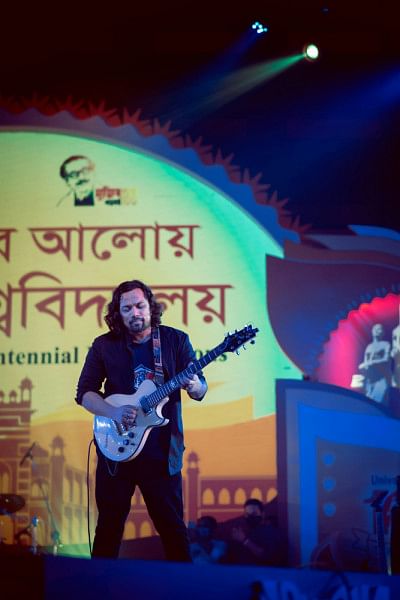 "The mixing and mastering of all these instruments were gargantuan tasks," said Emon. Originally, he wanted to use 500 instruments, but that would have made the tasks even more difficult.
What is more astounding, was the fact that the song was completed only 20 days before its release.
Mithun Chakra, whom many now know as the percussionist behind the magic of Coke Studio Bangla, arguably did the best work of his life here.
"I was perplexed when Emon bhai contacted and told me that I had to rehearse for the song", he said. "I had worked in film music before, but no one really had me rehearsing for anything."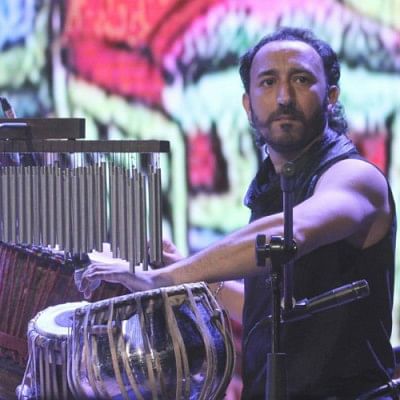 In the end, the mastery that Mithun boasts over percussive instruments came through. "Since we barely used any recognised instruments, we had to ensure that the tunings were on point. I remember entering a 'kolshi' (vase) shop with Emon bhai, and checking each one's tuning before the shopkeeper got annoyed, and almost threw us out!"
Percussion-heavy songs like "Shada Shada Kala Kala" are rare in the South-Asian film industry, perhaps last seen in some of Satyajit Ray's works. What the musical team of "Hawa" has done here is touched the nerve of exactly what was required for not only the film, but a music industry in dire need of something as refreshing.
In my humble opinion, "Hawa" will be viewed for the plot, lauded for the performances, but remembered for its music.