Historic 'Bangladesh Night' shines bright at Busan Film Festival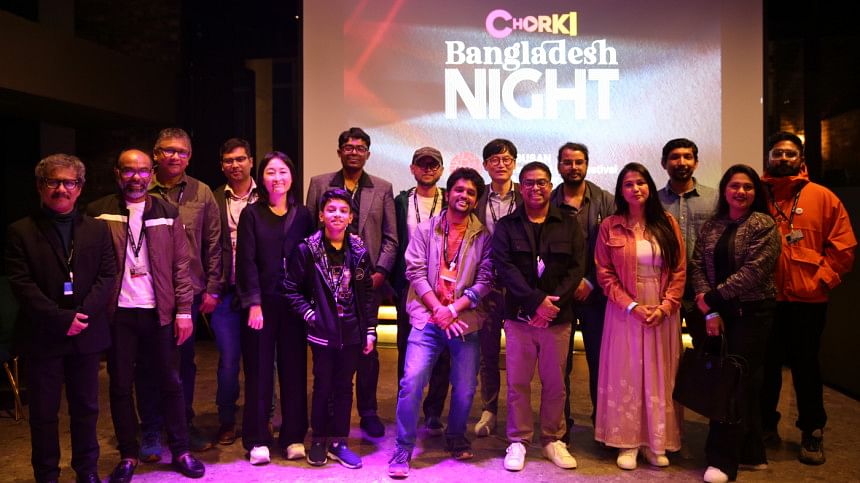 A momentous night unfolded for Bangladeshi cinema as 'Bangladesh Night' made its dazzling debut at the Busan International Film Festival. Organised under the banner of Chorki, this historic event was graced by Nam Dong Chul, the director of the Busan Film Festival, who celebrated the success of Bangladeshi films alongside festival programmers, international filmmakers, producers, film critics, and journalists.
Traditionally, nations around the world host such celebratory events to honour the achievements of their cinema in film festivals. This is the first time that Bangladesh has arranged such a celebratory night to grace the Bangladeshi films during an international film festival.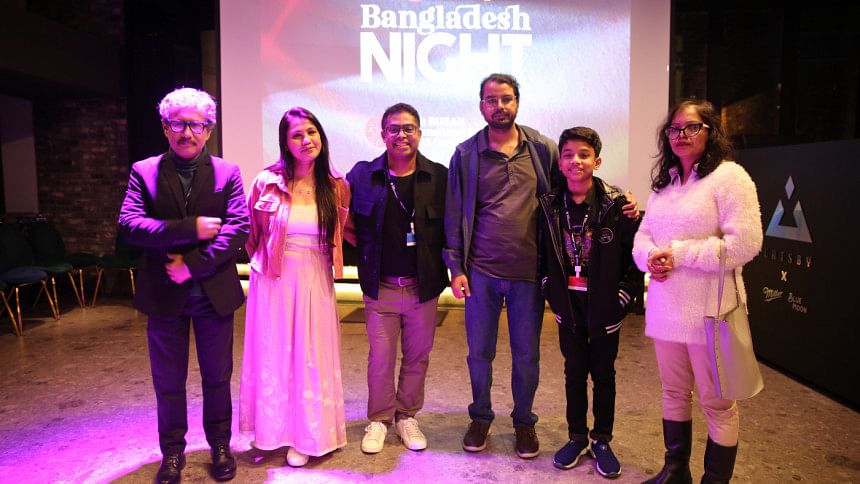 Three Bangladeshi films secured coveted spots in the competitive segments of the Busan International Film Festival. "Agontuk" (The Stranger), directed by Biplob Sarkar and "Boli-The Wrestler", directed by Iqbal Hossain Chowdhury, competed in the festival's 'New Currents' competition section. Mostofa Sarwar Farooki's directorial "Autobiography" competed in the 'Jiseok' section. Additionally, a Bangladeshi screenplay featured prominently in the Asian Project Market.
The evening kicked off with a warm welcome from Redoan Rony, the Chief Executive Officer of Chorki, who also hosted the event. Nusrat Imrose Tisha, the screenwriter, and actress of "Something Like an Autobiography", accompanied him during the presentation.
A video montage was shown which traced the rich history of Bangladeshi films, showcasing the selection of various films in esteemed international film festivals like Cannes, Toronto, Busan, and Rotterdam. Highlighted gems included "Matir Moina" by Tareque Masud, "Swopnodanay" by Golam Rabbany Biplob, "Third Person Singular Number" and "Television" by Mostafa Sarowar Farooki, "Rehana Maryam Noor" by Abdullah Mohammad Saad, and "Moshari" and "Pett Kata Shaw" by Nuhash Humayun. 
The achievements of directors such as Rubaiyat Hossain, Qamar Ahmad Simon, Abu Shahed Imon, Bijan Imtiaz, and Arifur Rahman, representing Bangladeshi cinema on the global stage, were also celebrated.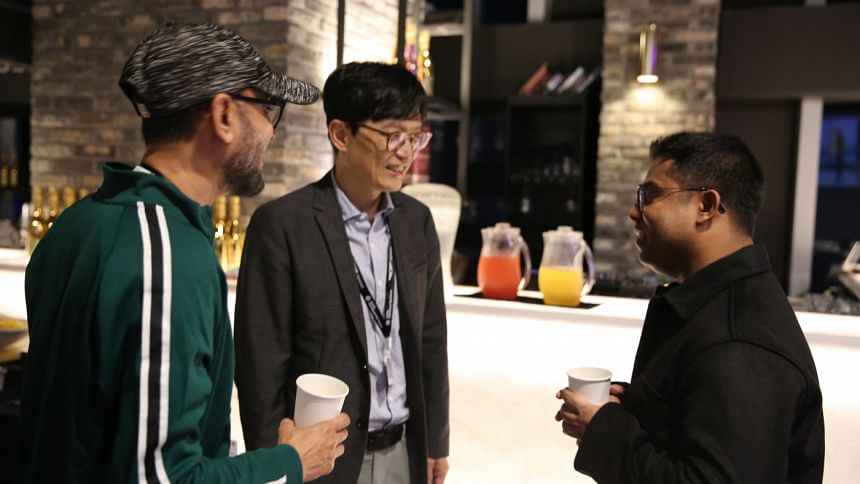 The video concluded with a focus on "Something Like an Autobiography", "Boli", and "Agantuk" competing in Busan International Film Festival. It also highlighted Chorki's contribution to the journey of Bengali cinema.
Director Nam Dong Chul of the Busan Film Festival took the stage following the video presentation, declaring, "This night is very important for Bangladeshi films." He lauded the remarkable presence of three Bangladeshi films and a screenplay at the festival, expressing his admiration for their excellence. He further commended the films for resonating with the audience and expressed his joy at witnessing the incredible journey of Bangladeshi cinema over the past decade.
Subsequently, directors Mostafa Sarwar Farooki, Iqbal Hossain Chowdhury, and Biplob Sarkar graced the stage, joining producers and artistes from Bangladesh in a momentous group photograph that will forever immortalise 'Bangladesh Night'.
Following the photo session, attendees engaged in spirited conversations, fostering connections between Bangladeshi performers and producers and their global counterparts.
The guest list included personalities from diverse countries, including Park Sun Young, Busan Film Festival Programmer, Jeremy Chua, Co-producer of "Rehana Maryam Noor", Patrick Frater, Asia Bureau Chief of Variety, Naman Ramachandran, International Representative of Variety, Nashen Moodley, Director of Sydney Film Festival, Thierry Jobin, Director of Freebook Film Festival; Martine Thérouanne and Jean-Marc Thérouanne, Directors of Vesul Film Festival and Ken G, Senior Programmer at Tokyo Film Festival.
The event also hosted directors, producers, and professionals from Indonesia, Malaysia, Nepal, Vietnam, India, Sri Lanka, and other South Asian countries.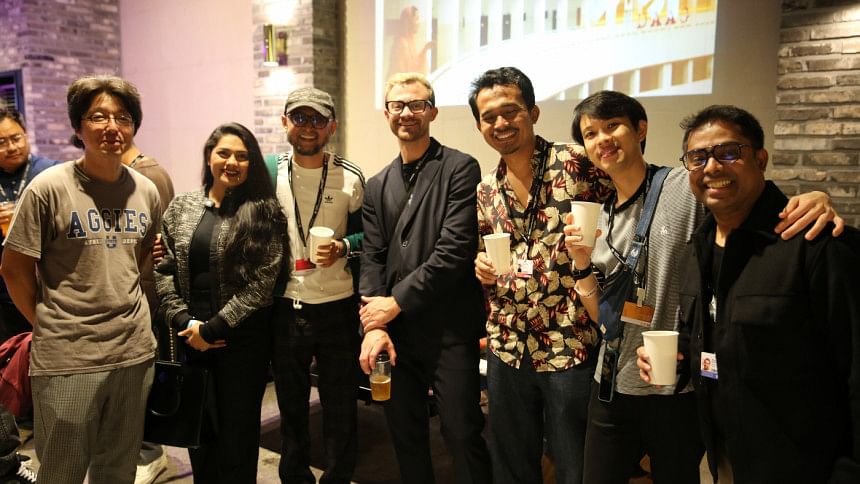 Notably, the director of "Boli" was joined by producer Piplu R Khan, Nasir Uddin Khan, actress Sahana Rahman Sumi of "Agantuk", child artist Salman Rahman Rafsan, and producer Tajul Haque, Director Robiul Alam Robi, who presented "Suraiya" in the Asian Project Market, writer Shibobroto Bormon, producer Fazle Hasan Shishir and cinematographer Ezaz Mehedi of the short film "Moshari", who arrived as a Fellow of the Busan Asian Film Academy, also graced the event.
'Bangladesh Night' at the Busan International Film Festival was an evening of celebration, connectivity, and recognition, marking an unforgettable chapter in the history of Bangladeshi cinema.