'Hawa', 'Damal', 'Beauty Circus' release on iScreen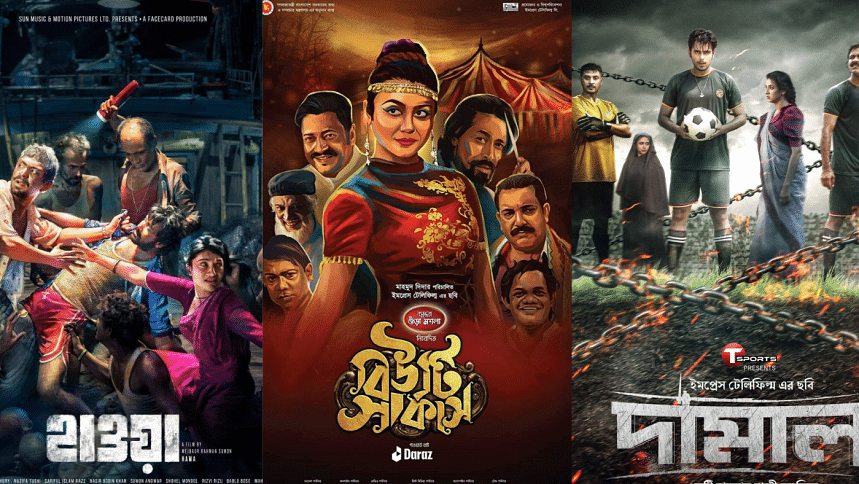 After winning the hearts of the audience in theaters, three hit films of last year, "Hawa", "Damal" and "Beauty Circus" were released on the OTT platform, iScreen yesterday. The announcement came at the grand launching ceremony of the new OTT platform, iScreen yesterday at the Sheraton Hotel in the capital's Banani area. 
The star-studded event was graced by Afzal Hossain, Mamunur Rashid, Subarna Mostofa, Badrul Anam Soud, Runa Khan, Tanvin Sweety, Raihan Rafi, Syed Ahmed Shawki, Azmeri Haque Badhan, Nipun Akter, Apu Biswas, Mehazabien Chowdhury, Afran Nisho, Chanchal Chowdhury, Sariful Razz, Pori Moni, Shamol Mawla, FS Nayeem, and Nazifa Tushi. 
"Hawa", directed by Mejbaur Rahman Sumon released on July 29, changed the narrative of Bengali films. The unique storyline of this film and the amazing performances of its cast hooked the audience to the screen till the end, also making a splash in Kolkata. The film was released in Kolkata on December 16. The film stars Chanchal Chowdhury, Nazifa Tushi, Sariful Razz, Shohel Mondol, and Nasir Uddin Khan, among others. 
Released in October 28, Raihan Rafi directorial "Damal" is based on a real-life football team that was formed in June,1971. The Shadhin Bangla Football Team played a total of 16 matches in different areas, raising around BDT 5 lakhs, which was donated to help fund our liberation war. The film features Siam Ahmed, Bidya Sinha Saha Mim, Rashed Mamun Apu, Sariful Razz, Shahnaz Sumi in the lead roles. 
After a long time, Jaya Ahsan was seen in a Bangladeshi film,"Beauty Circus" which was released in theaters on September 23 last year. Jaya Ahsan effortlessly stepped into the role of Beauty, the head of the circus and effortlessly portrayed the complexity of her character. 
"As it's my directorial debut, I didn't expect much response from the audience. Through this film, I tried to showcase the indomitable spirit of beauty who fights against all odds. Thanks to Impress Telefilm for making it possible for the audience to watch the film on OTT", said Mahmud Didar, the director of the film. 
iScreen will offer three subscription plans for the audience. They include a one-month subscription for BDT 25, a six-month subscription for BDT 125, and a one-year subscription for BDT 225.