Film Artistes Association want profit share from imported Indian films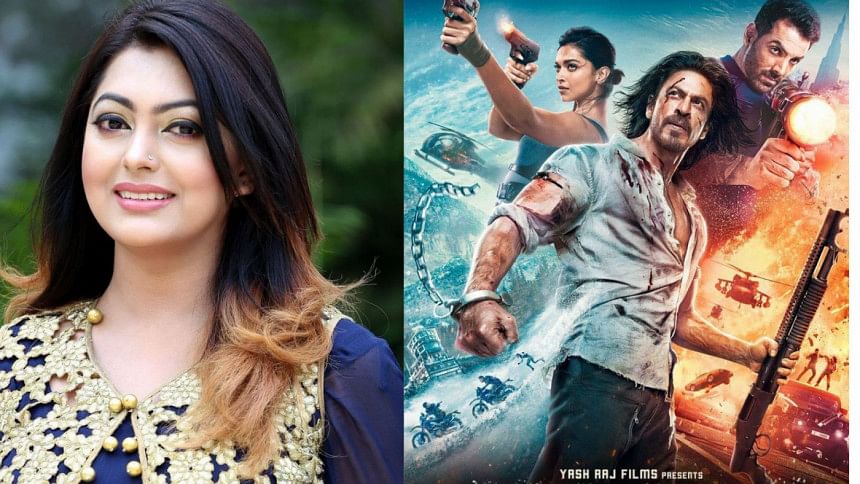 Seeing the commercial success of "Pathaan" has yet again revived the argument around importing Indian films. Shah Rukh Khan's film might soon be on its way for release in Bangladesh. It will allegedly be brought through the SAFTA agreement, and the distribution company in question has already sent a letter to the Ministry of Information and Broadcasting regarding the issue.
A decision was supposed to be made yesterday. However, the Ministry of Information and Broadcasting could not come to a decision in that meeting. At the time, they informed The Daily Star that they have to send a letter to the Ministry of Commerce, as there are some issues regarding movie import and the SAFTA agreement. If the film is allowed to release here, it will be showcased two days after its Indian release on January 25.
This time, fans of Bollywood movies along with distributors are also ready to jump on the bandwagon of bringing in Indian films to Bangladeshi movie theatres. This decision comes not only due to the demands of the fans to watch Bollywood films simultaneously with India, but also because it would help revive many of the cinema theatres in the country.
Speaking on the issue, General Secretary of Bangladesh Film Artistes Association, Nipun Akhter told the media that she personally believes that Indian films should be allowed to be imported. She pointed out that competing alongside both English and Hindi films, will help eradicate movies with lesser values.
When asked whether the decision to support the cause was collective, she commented that the Association has already held a meeting in favour of importing Indian films. The proposal includes that the Artistes Association be granted 10 percent of the profits made from imported Indian films. She remarked that if the proposal is granted, it would help increase funds and also help artists in need.
Nipun, however, did make the request to not screen Hindi films during any festivals like Eid. Rather, only Bangladeshi movies should be screened in cinema halls during these special occasions.
Echoing Nipun's words, the President of the Artistes Association, Ilias Kanchan also mentioned that the number of cinemas being produced locally is not enough to keep the cinema halls open, for which the decision of importing films might be beneficial. The surge of audiences that will come to view Bollywood films will help keep cinema halls alive. He also added that it befalls on the artistes themselves to keep art alive, stating external help might not be enough.