Enroll for Chorki's 'Internsheep' tomorrow
After graduation, every student faces the next phase of life exams, one usually called 'internship'. Based on that concept, the Rezaur Rahman directorial web-series "Internsheep", is all set to appear in Chorki tomorrow (February 23) at 8 pm.
Speaking about the series title, the director revealed, "I initially called the series 'intern'. However, even after all the shooting and post-production works were finished, we struggled quite a bit with the name."
"To be honest, the life of interns is quite like a herd of sheep, who follow the lead of the shepherd," said the director. "The interns have no choice or voice in the office. Our characters in the series are also like that. And that's why we named the series 'internsheep' rather than 'intern'."
The six-episode series "Internsheep" was written by Kaarina Kaisar. It features Shommo Jyoti and Sadia Ayman in the lead roles.
"It's truly an interesting story," said Shommo. "The narrative is very similar to the real-life situation and the experiences that a graduate goes through from the first day of his job to the end of the month. This type of situational comedy is quite trending now. I have enjoyed the shoot and can't wait to see it on the Chorki screen."
Meanwhile, Sadia Ayman said, "As the series is quite similar to reality, it wasn't hard to portray my character. Moreover, I have worked with Shommo before as well. The audience will get to know what really happens in an office through the series."
"With a love triangle and various problems riddling in the office, I am sure the audience will like it too," added the actress.
Fans will also get to see Sarah Alam, Shampa Reza, Mir Rabby, and Taslima Hossain Nodi, amongst others.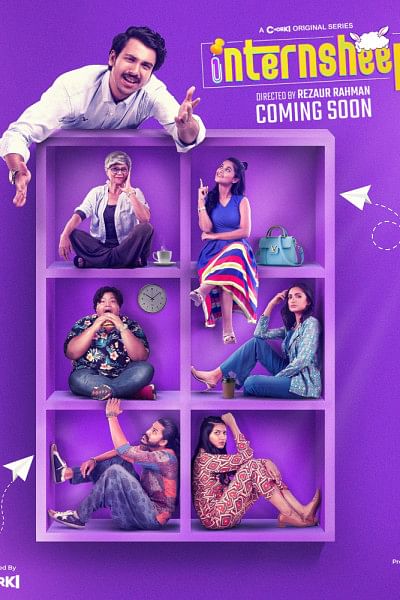 Working with so many youths has been a pleasant experience for the noted actress Shampa Reza. "I felt like I was young again while working with all these youth," she mentioned. "I was amazed when the director narrated the concept and narrative of the story. With fun and creativity intermixed in the story, 'Internsheep' is a marvelous production."
For fans, one can easily watch the series tomorrow at 8 pm on Chorki.