Dinar always delivers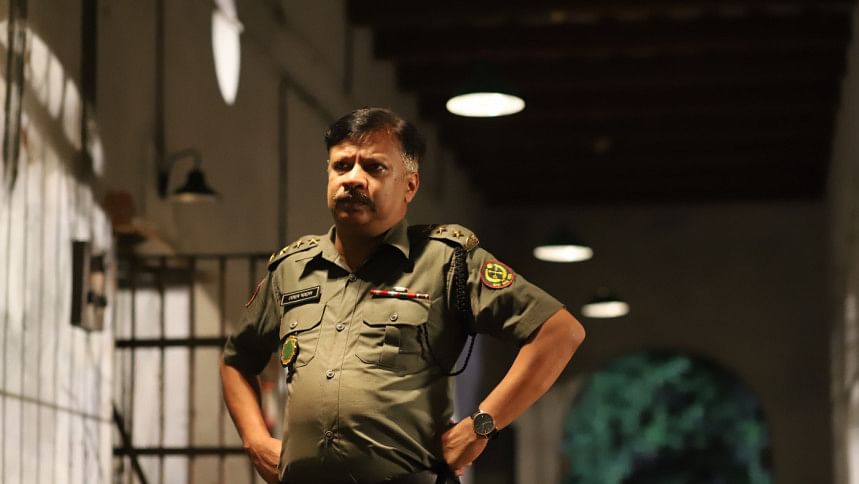 Intekhab Dinar has been able to redefine his career when upon stepping into the revolution that was Bangladeshi OTT -- coming up with one after another tremendous performances in this medium. Two of the projects featuring Dinar, released today in two popular OTT platforms—Chorki and Hoichoi. One is the much-anticipated part 2 of the Syed Ahmed Shawki directorial "Karagar", and the latter is Chorki original, "Café Desire" directed by Robiul Alam Robi.
"I can't really tell if it is fortunate or not, the fact that two of my projects are releasing on the same day," laughs the actor. Arguably, "Karagar" was one of the most appreciated web series this year. Dinar donned the role of jailer Mostaque Ahmed, a character which came alive on screen because of the actor's efforts. When asked if he were given a choice, is there any other role he would pick up from the show, "I was actually given a choice, and without giving a second thought, I chose this role," asserts Dinar.
"I am overwhelmed with all the love and appreciation I have received after working in this project, I would definitely like to share the credit with the director Shawki and my co-artistes," he further said.
The series also marks the OTT debut of the noted actress Bijori Barkatullah, who played the actor's wife in the project. The real-life couple had a great onscreen chemistry, where they were seen facing a major crisis in their life, in the previous part of the show. "I am a fan of Bijori's work," he shares, "Interestingly the more she is serious and dedicated about her work, the more careless I am. As a co-artiste she is amazing, and extremely cooperative. She helped me improve my performance, to be honest."
According to the actor, the second part of "Karagar" is all about unfolding the truth, and answering the questions that the audience had in part one.
Dinar was also lauded for his performance in "Café Desire". "I will always be grateful to Robi, as his project 'Dwikhondito' is the turning point project in my career," says the actor. According to Dinar, "Café Desire" is an anthology film, consisting 5 different stories, with a multiple casting. He shares the screen with Abul Kalam Azad and Aisha khan.
Dinar is currently working in Enamul Karim Nirjhor's upcoming film, he also completed Siddiq Ahamed's project for Binge, and will also start working in Animesh Aich's web series soon.