'The Fearless Call-II': Remembering Bangabandhu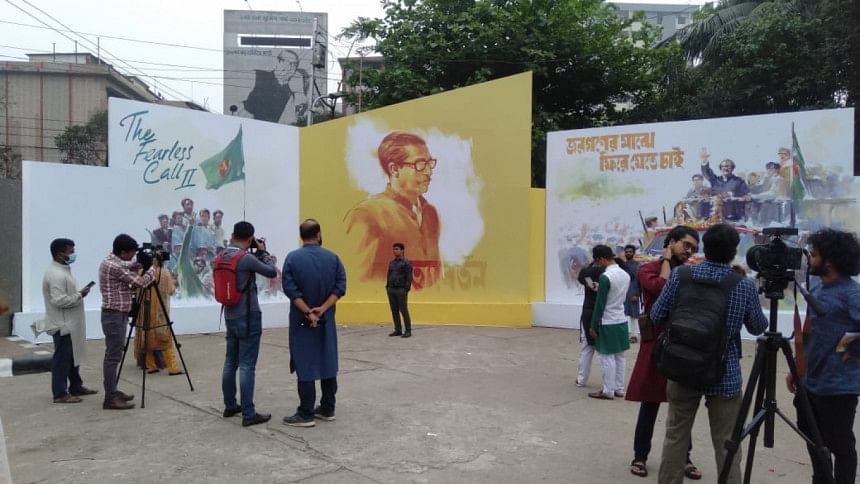 The inauguration of "The Fearless Call-II" took place at Russel Square, Dhanmondi 32, on March 17 at 10am—the birthday of the father of the nation, Bangabandhu Sheikh Mujibur Rahman.
The event was organised by Centre for Research and Information (CRI) with the purpose of reminiscing the history of independence and the formative years of Bangladesh, in hopes of conveying it to the youth.
CRI host, Kashpia Kaba Shejuti welcomed all the guests warmly, followed by the introduction of eight young artists by the curator Emdadul Haque Topu. The opening ceremony was graced by the presence of CRI Trustee, Nasrul Hamid, MP, State Minister, Ministry of Power, Energy, and Mineral Resources; Rajeeb Samdani, Trustee of Dhaka Art Summit and Samdani Art Foundation, and Waseqa Ayesha Khan, MP.  The ceremony ended with Zunaid Ahmed Palak, State Minister of ICT Division delivering the concluding remarks.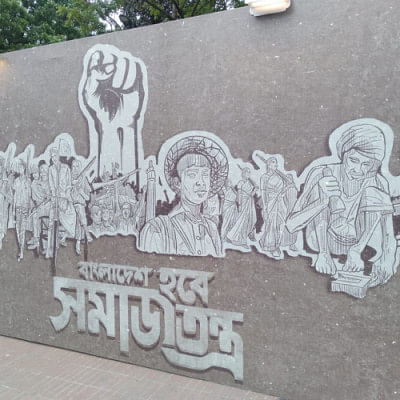 Under a cloudy morning sky, Russel Square was colourfully adorned with the illustrations of eight emerging artists of Bangladesh: Sayed Fida Hossain, Arafat Karim, Auntora Mehrukh Azad, Ananya Mehpar Azad, Shamim Ahmed Chowdhury, S M Rakibul Rahman, Mahatab Rashid and Syed Nafis.
The first edition of "The Fearless Call" was based on Bangabandhu's directives on March 7, 1971. This year, CRI hosted the second edition on the context of Bangabandhu's historic 'Homecoming' speech on January 10, 1972, to rebuild our war-torn nation.
Professional architect, Shamim designed the whole structure of the installation that worked as the base for all the illustrations and notes. Bangabandhu's portrait on yellow and white, that stands with all its glory, was done by illustrator, Arafat Karim. Artist Auntora's illustration depicts the genocide of the Liberation War, whereas her sister, Anannya portays our women, who directly or indirectly participated in the war in her paintings.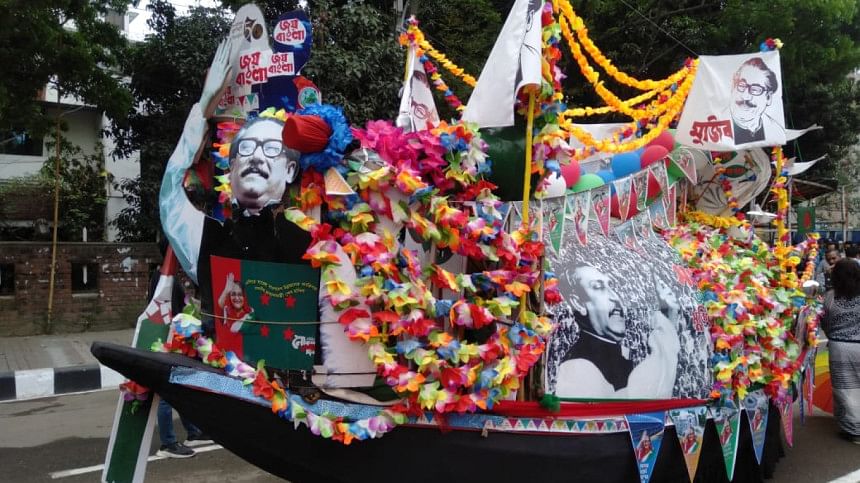 All the other surfaces of the installation hold bits and pieces of Bangabandhu and his beloved countrymen, from the historic 'Homecoming' day, and our Bengali culture.
A few selected children participated in drawing their own versions of the homecoming day. They were gifted with books and art supplies for their lovely paintings.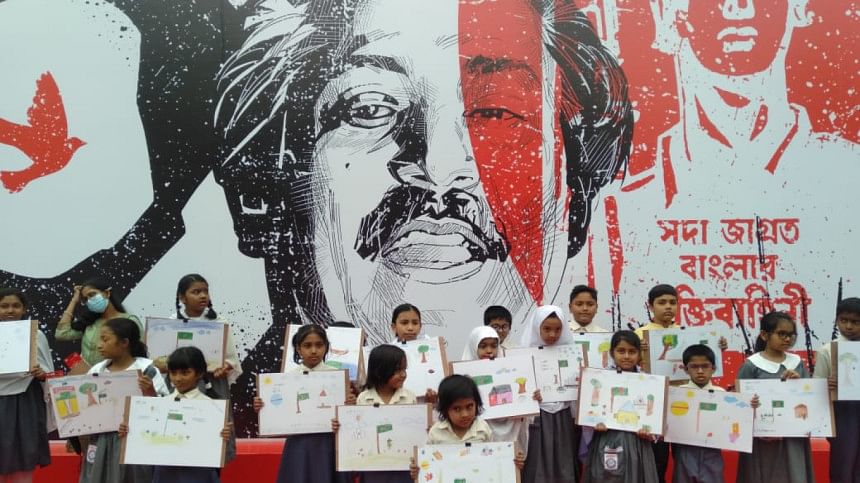 Bangabandhu's speech was recited with much respect by a child wearing a similar outfit as the Father of the Nation. There was also a boat, decorated with colourful papers as a tribute to Bangabandhu. The whole area of the event had a calm, yet cheerful and solemn vibe to it. The exhibition is open for all to visit and enjoy.