4 theatre troupes demand answers from Group Theatre Federation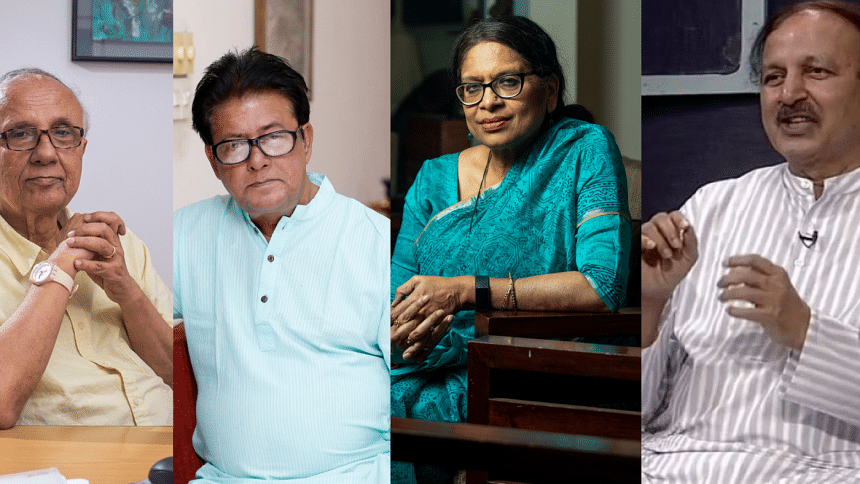 Nagorik Natya Sampradaya, Aranyak Natyadal, Theatre, and Natyachakra—the four popular theatre groups have issued a letter demanding the answers for Kamal Bayezid's termination from his position and Dhaka Theatre's decision to quit from the Group Theatre Federation. Earlier on March 27, eminent theatre personality Nasir Uddin Yousuff and his troupe Dhaka Theatre confirmed through a press note about their resignation (March 22) in protest of the dismission of membership of Kamal Bayezid from Secretary General of Bangladesh Group Theatre Federation. Kamal Bayezid is a renowned theatre activist, and a senior member of Dhaka Theatre.
Thus, the four groups, as members of Bangladesh Group Theatre Federation, showed their concern and demanded to know about the ultimate solution of this matter which has been getting complicated over time.
The letter was sent to Liaquat Ali Lucky, Chairman, Group Theatre Federation, earlier on April 13, which has been revealed today to the media.
On April 14, 2022, Nasir Uddin Yousuff sent an official letter to Liaquat Ali Lucky demanding to re-investigate the allegations brought against the elected Secretary General, Kamal Bayezid. He had also stated that the cancellation of the membership was not properly done as per the rules of the federation. The four groups also mentioned that they also want to know the outcome of the investigation and they will accept whatever decision the federation makes if it has been fairly done.
In that letter, Sara Zaker (Nagorik Natya Sampradaya), Ramendu Majumdar (Theatre), Mamunur Rashid (Aranyak Natyadal), and M Hamid (Natyachakra) along with their signature, have sent the letter to Liaquat Ali Lucky. They have demanded the federation to respond by May 20, 2023.