Saadul Islam: A story of six strings and visual arts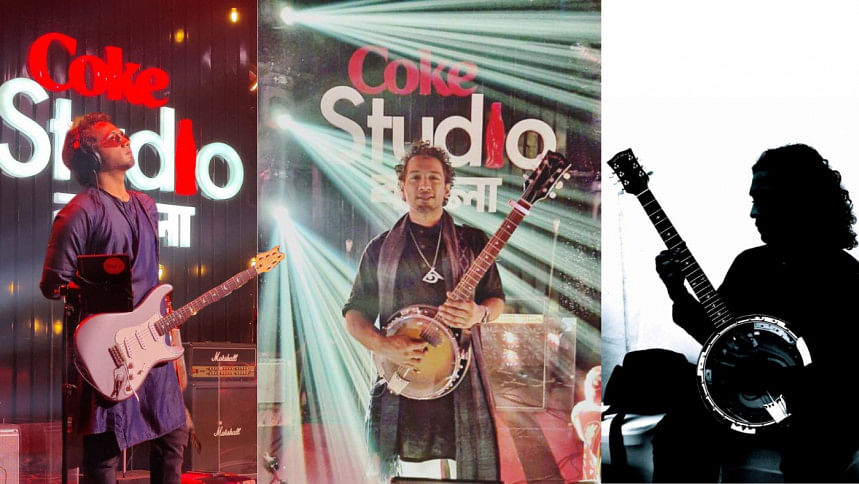 Many of you might recognise him as the amazing guitar player from Coke Studio Bangla. However, his fiery outro on "Nasek Nasek", bluesy solo on "Bhober Pagol" and harmonic fillers on "Chiltey Roud" are but small glimpses into the virtuoso that is Saadul Islam.
From closely working with the musical genius of Shayan Chowdhury Arnob since his teenage years, to collaborating with two of the finest visual poets of our time, Munem Wasif and Sarker Protick, Saadul Islam is possibly one of the most talented individuals in the local music scene.
Usually a humble and hesitant person—nonchalantly avoiding the limelight—Saadul Islam sat down with The Daily Star to tell us his story.
"I was always the curious kid. Being the youngest one from my family, I was quite different from my other siblings. Even now, I clearly remember that when I was eight or nine, I took my older sister's 8th grade physics book and used it to make some DIY (Do it yourself) things.  While I was never inclined towards the academics, I had a knack for technology and enjoyed learning about it in depth," shared Saadul. 
However, he had to shift school quite early on, leaving behind his friends. This left a great psychological impact on Saadul, but also marked the beginning of a new, life-altering, chapter. He would find his cohort when he started making friends and becoming chummy with seniors. At the same time, his siblings would also play an important role in shaping his music tastes and ideologies.
"My sister introduced me to bands like Nirvana, Alice in Chains and Pink Floyd when I was 13-14 years old. Previously, I enjoyed bands like Backstreet Boys, so this was a major shift for me. After this, my brother got me into Guns N' Roses. Soon, I would get my hands on my first electric guitar, an Ibanez GIO that my father got for me from Bangkok. I still have this guitar even after so many years," said Saadul.
"Since I have quite an addictive personality, I started spending a lot of time with my new guitar. Although I'm primarily self-taught, a friend of my older brother played a big role in my learning around that time. Not only would he show me complex riff patterns, he gradually got me into heavier music. I started learning Dream Theatre and Iron Maiden songs by ear quite early on."
The next couple of years would go by quite quick for Saadul, as he found himself going from his first highschool band, Birodh, to playing with one of the fastest rising bands in the underground scene at that time, Fulbanu's Revenge.
Saadul would then go abroad for his higher studies. However, soon after, he would drop out of university. After meeting with Arnob one day, he would find himself thrown into the mix, recording the evening shifts of two iconic albums, Vibe's "Chena Jogot" and Black's "Utshober Por". So began his music career.
However, music wasn't the only form of art that Saadul would find himself drawn to. In 2009, some family friends from Australia were visiting him and his family. During the visit, Saadul became rather curious about the DSLR camera a guest had brought with them. As a result, he found himself developing an interest for photography. Eventually, he would begin studying photography at Pathshala, where he met the likes of Wasif and Protick.
Years later, he would debut his physical artwork "Inel", at Chobi Mela 2021. Built on the basis of his personal journey of healing, the auditory-optical based installation delivered an inexplainable metaphysical experience, that became an instant crowd favourite.
While his journey in the arts is still ongoing, we can only wait with excitement to see what Saadul does next.