Dhaka Rock Fest 3.0 underway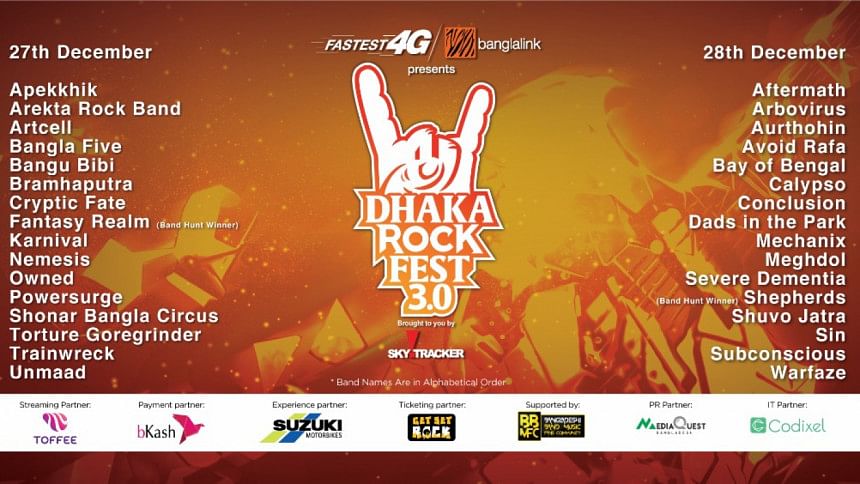 Dhaka Rock Fest 3.0 is all set to end the year with a bang, with day one of the concert beginning today from 11 am at ICCB Expo Zone. A total of 16 bands will be performing today.
Organised by Banglalink and Sky Tracker Limited, the two day long musical event will greet audiences with a stellar line-up including Warfaze, Aurthohin, Artcell, AvoidRafa, Mechanix, Subconscious, Cryptic Fate, Karnival, Nemesis and Aftermath, among others.
For fans, today's (December 27) event will feature Apekkhik, Arekta Rock Band, Artcell, Bangla Five, Bangu Bibi, Brahmaputra, Cryptic Fate, Fantasy Realm, Karnival, Nemesis, Owned, Powersurge, Shonar Bangla Circus, Torture Goregrinder, Trainwreck, and Unmaad.
The second day (December 28) of the concert will see performances from Aftermath, Arbovirus, Aurthohin, AvoidRafa, Bay of Bengal, Calypso, Conclusion, Dads in the Park, Mechanix, Meghdol, Severe Dementia, Shepherds, Shuvo Jatra, Sin, Subconscious and Warfaze.
Interested concert-goers can purchase tickets from Get Set Rock's website, priced BDT 500 per day. However, if someone purchases tickets for both days together, it will cost only BDT 900.