Siddiqur's uncertain future
Use of disproportionate force by police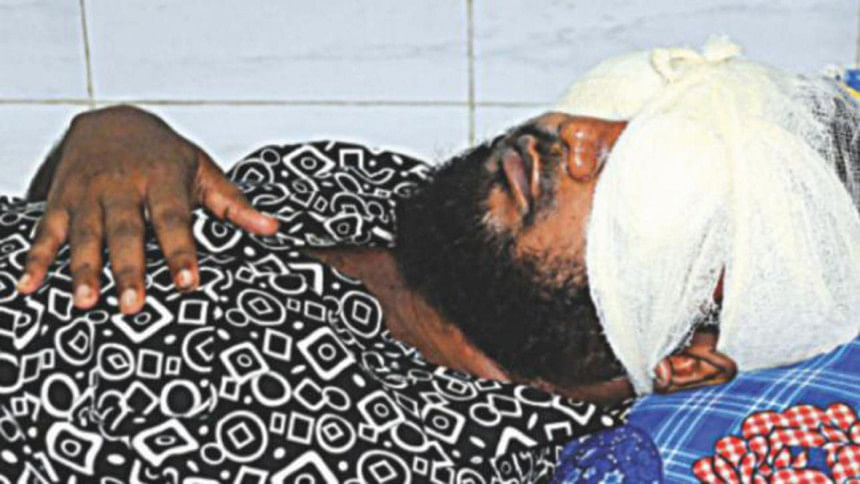 We commiserate with Siddiqur Rahman, a student of Titumir College, who was hit by a tear gas shell lobbed by the chasing police at the procession of college students of which he was a part.He risks losing both eyes, according to the doctors.  
Several questions emerge from the incident. Firstly, we ask whether the students were violent enough to merit the police action on them that culminated in lobbying of teargas. On the contrary, according to reports, it was police heavy-handedness that precipitated a situation where, we feel, the degree of force applied was disproportionate to the threat. Secondly, isn't there a minimum standoff distance to lob tear gas shell from? Was that ensured in this instance? The very close range from which the shell was lobbed, as evident from the video footage, does not seem so. Thirdly, why is there a tendency by the police to give a slant to an incident before a proper inquiry has been done? Attempt to lay a red herring is very evident by suggesting that there could be other causes of the injury, like brickbats thrown by the student? It's difficult to believe that students would subject their own mates to danger. And if brickbats were thrown all, it would have hit the head, not the eye!
Accidents can and do happen. But to try to cover it up is not the answer. On the contrary a thorough and objective inquiry as to what actually happened can help prevent such accidents or take to task those that violated the standing orders.
We hope that a proper investigation will be done by the authorities and appropriate action taken in this regard. We also feel that Siddiqur deserves more than mere expression of compassion to enable him to deal with the uncertainty that he faces as a consequence of injury to both his eyes.And the administration should take the lead.