A promising initiative
Make proof of fitness certificate mandatory at filling stations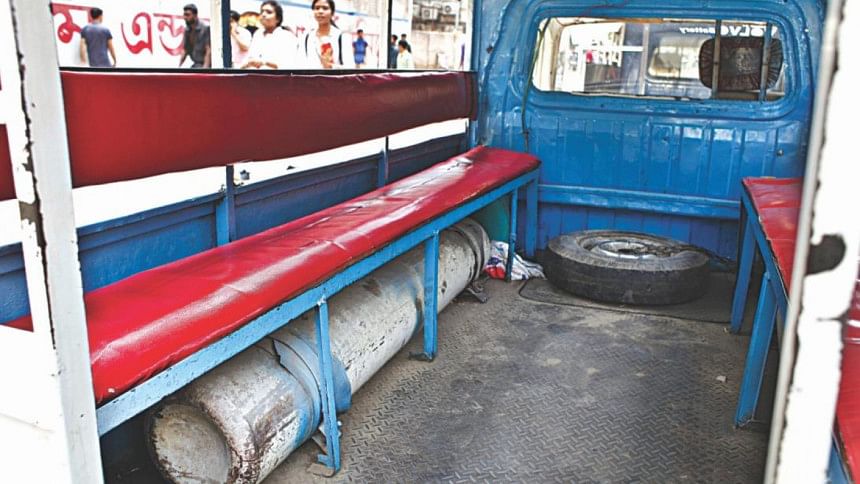 The Bangladesh Road Transport Authority's (BRTA) proposal to make proof of cylinder retest certificate mandatory for refilling at filling stations for CNG-run vehicles is promising. As we know, an overwhelming majority of these vehicles regularly plying on the roads do not undergo fitness tests which they are required to do every five years, as per international guidelines and CNG Rules 2005. As per a report published in this daily on Sunday, only 91,771 out of 5,03,864 CNG-run vehicles (around 18 percent) have been tested.
The proposal, which has been submitted in a letter to the road transport and bridges ministry, may also be applied to other kinds of vehicles such as public buses—a large proportion of which runs without fitness certificates and pose a major threat to road safety in the country.
While we think making cylinder retest certificates mandatory at filling stations can bring some change and, hopefully, reduce the number of accidents on our roads, there are a number of issues that ought to be addressed for this initiative to be successful.
First, it could open up new avenues for corruption, which means the authorities should think in advance and take necessary steps to reduce the possibilities of corruption. Second, there are only around 30 retesting centres in the country—which is a drop in the ocean. Thus, the number of retesting centres has to be increased. Third, making cylinder retest certificates mandatory at filling stations risks increasing the waiting time, which means ordinary commuters may also end up suffering. To ensure that doesn't happen, the authorities should come up with a strategy that deals with this problem. And finally, strict monitoring at filling stations, retesting centres, and conversion workshops is paramount to ensure the fitness of CNG-run vehicles plying the roads.