Editorial
Four Chattogram corporate groups supplying free oxygen during the pandemic
They stand as an example of how the corporate sector can support their communities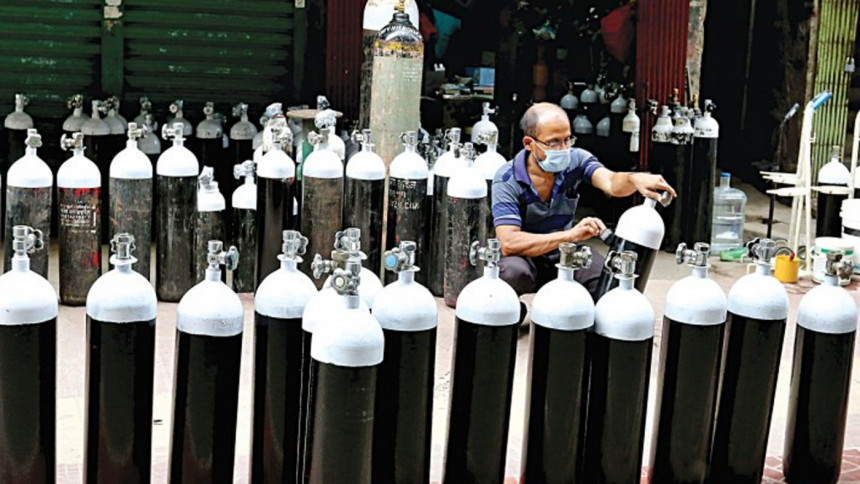 We applaud the initiative taken by four corporate houses based in Chattogram, who have been supplying oxygen to hospitals and patients for free in several districts, like Chattogram, Cox's Bazar, Feni, Cumilla, and Sylhet, since the middle of last year. So far, they have distributed 12,000 cylinders to 35 private and government hospitals and during the surge of infections in March and April this year, they refilled around 700 oxygen cylinders free of cost every day.
It is heartening to see the corporate sector step in to support their local communities during times of crises. What is even more reassuring is that these corporate houses—Mostafa-Hakim Group, Abul Khair Group, GPH Ispat and Master Group—have now expressed willingness to extend their free oxygen supply support to Covid-19 patients and hospitals in border districts, where we are once again seeing a surge of infections due to the Delta variant from across the borders. Although the DGHS said last week that there is no shortage of oxygen yet in the border districts, only in April this year, the health minister told a press conference that the situation may change if the infection rate increases too drastically (which is what we are seeing in certain border districts right now). According to the World Health Organization, 15-20 percent of Covid-19 patients require hospitalisation and oxygen support.
In this scenario, coupled with the fact that our oxygen supply has been disrupted due to the oxygen crisis in India and a ban on oxygen exports—Bangladesh used to meet 15-20 percent of its monthly requirement of around 5,400 tonnes of both medical and industrial oxygen through imports from India—the health sector can use all the help that it can get. In June last year, at the height of the pandemic, families of critical Covid-19 patients were forced to buy oxygen cylinders at almost triple the price. Initiatives such as the one by the four corporate houses in Chattogram can, in future, provide an important lifeline to marginalised families struggling with the expenses of Covid-19 care.
We hope the concerned authorities will accept the generous offer of these Chattogram corporate houses without the added burden of cutting through any bureaucratic red tape. We also hope that their actions will be an example to all other actors who are able to step up and support the health sector in its fight against Covid-19.