Editorial
Militants active again
Can't afford to let our guard down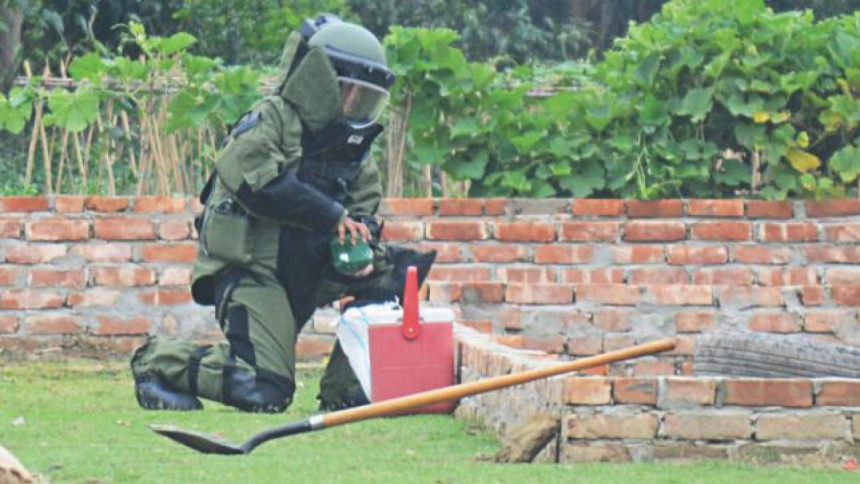 We applaud the preemptive drive by police forces on Wednesday that resulted in the recovery of grenades, bomb making materials and cleavers. The raid on the hideout in Mirsarai, Chittagong surely brings a sigh of relief. This is especially so, given that the two were arrested while trying to attack a police check point in Comilla the day before.
Law enforcers surely deserve praise for the fact that militant attacks, which had become a menace last year, has gone down significantly. However, their claim that Neo JMB and other militant groups are on the back foot should not be a reason for complacency. The audacity of the arrested Neo JMB duo to try to attack a police check point in the first place speaks about their efforts to regain the initiative. Similarly, the attack on the prison van convoy on Monday by militants indicate that there might be more such groups working in collusion or otherwise. 
It is pertinent that according to studies conducted by the Bangladesh Institute of Peace and Security Studies (BIPSS), the jails in the country are being used by arrested militants to preach their radical ideologies. Containment and de-radicalisation steps are called for now to stop the further spread of their ideology.
The amount of bomb-making material that was seized – 280 packets of metal balls (each pack contains 100 balls) and 40 packets of explosive gel to give an example – also raises questions. Where are these militants obtaining these? Can anything be done to choke the supply of the material? The law enforcers have done a commendable job in tackling militancy; it is now time to look towards making sure they are deprived of all assets to inflict violence and eventually neutralise them fully.