Fire safety in shopping malls
Remove lacunae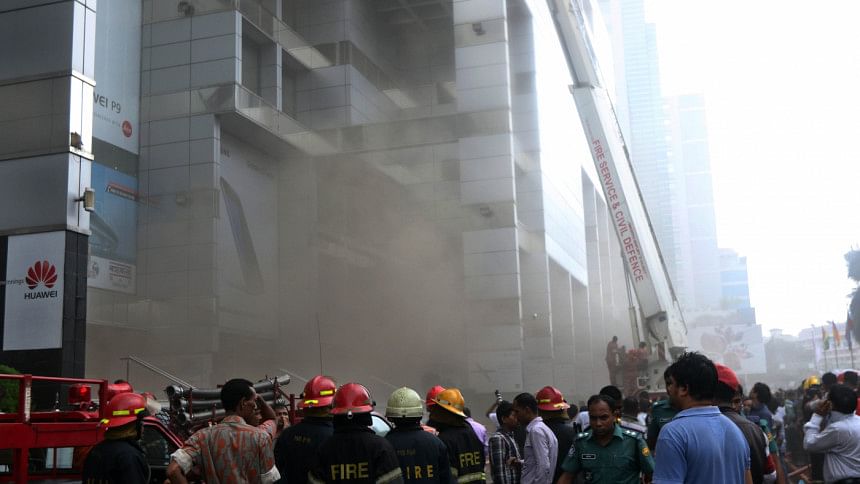 We are happy to note that fire fighters had successfully doused the massive fire that broke out on Sunday in the Bashundhara shopping mall without any casualty. The evacuation plan and crowd management during the incident have also been impressive. However it has left us worried, as it is a reminder of the extent to which fire can pose   threat to the lives and property of the ordinary people when living in or frequenting high rise buildings. 
There is an underlying apprehension about fire safety in large establishments, especially in the shopping malls. This is especially true for the large structures that have mushroomed without adequate safety mechanism. A good number of them remain congested at the entrance and exit as it is, making them vulnerable to stampedes and other fatalities in case of any eventualities. More susceptible are large open malls like the New Market, Gausia Market and Bangabazar, where there is no fire fighting equipment. Also their presence in a heavy traffic-prone area and the lack of source of water / fire hydrants in the immediate vicinity make fire fighting more troublesome. 
It is essential that the lacunas are addressed immediately so as to minimise the likely casualties and risk to life. The National Building Code, which sets certain parameters for fire safety, has to be strictly enforced. RAJUK must take the lead in conducting an audit of errant shopping malls and enforce the code with remedial measures. On top of it all, the Fire Service should focus on conducting fire drills at a regular interval to inform people and the shop owners about appropriate fire drills. Fire safety cannot be allowed to take a backseat.