Bangladesh's lax cybersecurity
Digital security policy must be improved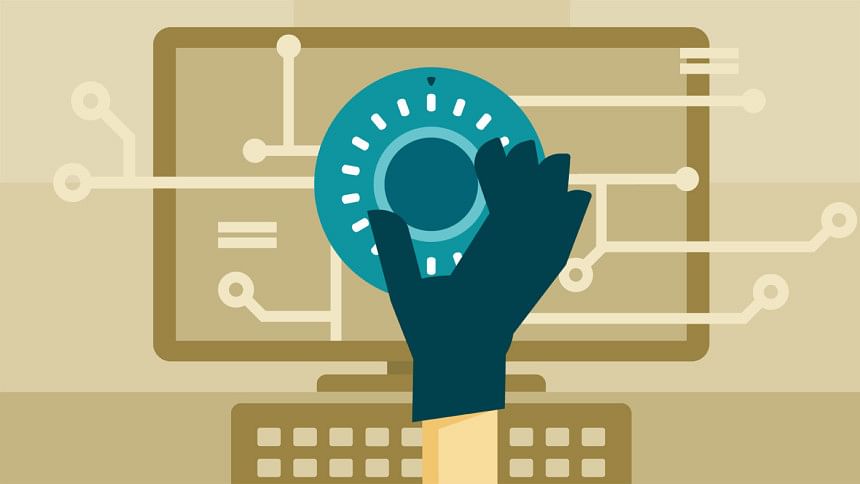 Bangladesh has ranked 73rd out of 100 countries in a newly published global cybersecurity index, according to a report by The Daily Star. The index gave Bangladesh a score of 25.97, a frustrating performance given the importance of cybersecurity in a world fast shifting toward digitalisation. Although the index puts us ahead of several South Asian countries such as Sri Lanka, Indonesia, Nepal and Bhutan in terms of the preparedness to prevent cybercrimes, it is no consolation because the impact of such threats may be different for each country given their state of preparedness—and ours has been known to be particularly poor.
How ready—and willing—is Bangladesh to tackle the growing cyber threats? Our willingness will determine how far we're ready to go to ensure digital security. The latest index puts both our readiness and willingness into question. The government, it seems, is more focused on the prospects of digitalisation in bringing about higher profits and greater efficiency in transactions, public services and other affairs but as the aftermath of the Bangladesh Bank cyber heist, which still remains unsolved, has shown, we're still not ready to deal with the challenges of a digital world in which cybercriminals working behind the cloak of invisibility are as real as any physical threat and, if unchecked, can wreak havoc on the security and financial integrity of any country.
So the push for digitalisation must come with a push for increasing vigilance in the cyberspace. The government must work toward improving security procedures, identify and strengthen vulnerable areas, and update existing technologies under an integrated cyber policy. Since cybersecurity is a global challenge, it's also important to take note of the precautions taken by other countries and work in concert with them for a safer digital world.