'Dhaka attack planner Sohel was ameer of West Bengal JMB'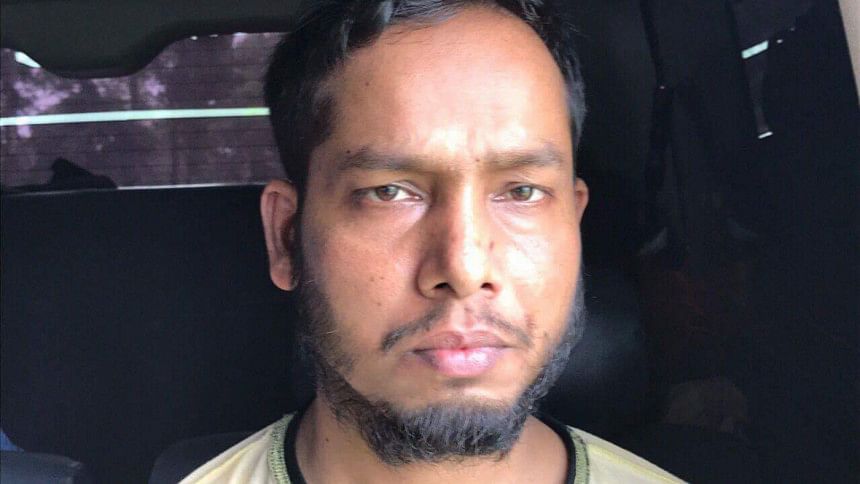 Sohel Mahfuz, who was arrested along with three suspected militants in Chapainawabganj today, was ameer of West Bengal unit JMB and one of the key accused of Burdwan blast, police said.
West Bengal police announced Rs 10 lakh as bounty to nab the militant kingpin, Sohel Mahfuz alias Nasrullah, said Monirul Islam, chief of Counter-Terrorism and Transnational Crime unit of DMP.
Also READ: Cops hunt for top militant who supplied grenades

Sohel was ameer of JMB's West Bengal unit from 2009 to 2014 and he entered Bangladesh on December 2016 to devise the Gulshan café attack, Monirul said at a press conference in the media centre of Dhaka Metropolitan Police this afternoon.
READ more: One year of Gulshan attack: Remembered with love, tears




What is 'Neo JMB'?

"Neo JMB", as law enforcers call it, is an offshoot of the banned militant outfit Jama'atul Mujahideen Bangladesh (JMB). The "Neo JMB", formed by leaders and operatives of mainstream JMB who did not accept the leadership of Saidur Rahman, follows the ideology of Islamic State (IS). More...



Sohel is a relative of the Dhaka café attack mastermind Marzan, who was killed in crossfire on January 6, he said.

A team of law enforcers from Dhaka with the help of local police arrested Sohel and his three associates from a mango orchard in Shibganj upazila of Chapainawabganj early today, said TM Mojahidul Islam, superintendant of police in Chapainawabganj.

The other arrestees are: Jamal, Hafiz and Jewel, the SP added. 

On the night of July 1, 2016, five armed militants stormed into Holet Artisan Bakery in the Gulshan diplomatic zone and held diners hostage at gunpoint. They then brutally murdered nine Italians, seven Japanese, one Indian and three Bangladeshis.

Two police officers also lost their lives as law enforcers in groups tried to close in on the place. 

The siege ended through a commando operation in which five militants and a chef died. Another staffer died of his injuries in hospital.

Sohel will be shown accused of the Gulshan café attack case and will be produced before the court tomorrow, Monirul said in the briefing.

Claiming the arrest as a historical achievement of the law enforcers, Monirul said law enforcement agencies have been searching Mahfuz since 2006.