One year of Gulshan attack: Remembered with love, tears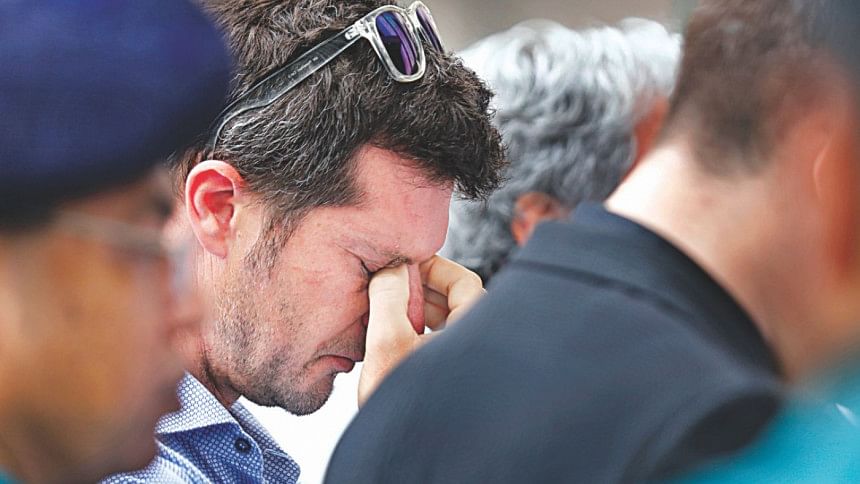 She is not related to them. Yet tears were streaming down Saleha Begum's face as she stood at the site of the deadliest terror attack in the country's history.
She was among the hundreds who gathered on the old premises of the Holey Artisan Bakery yesterday to pay respect to the memory of those whose lives were cut short by militants at the restaurant a year back. 
"I have no blood relations among the victims, but I feel all of them are my near and dear ones. I came here to pay tributes," Saleha said.
Mourners, including foreigners, placed flowers there as the once upscale restaurant was open to public for four hours from around 9:30am to mark the first anniversary of the attack that left a deep scar on the nation's psyche. 
Japanese Ambassador Masato Watanabe, along with some representatives of Japan International Cooperation Agency (JICA), paid homage to the victims at 7:30am.
Italian delegations paid respects bowing heads, read out a commemorative letter in Italian and observed a quiet moment of remembrance.
On the night of July 1 last year, five armed militants stormed the café in the Gulshan diplomatic zone and held diners hostage at gunpoint. They then brutally murdered nine Italians, seven Japanese, one Indian and three Bangladeshis.
Two police officers also lost their lives as law enforcers in groups tried to close in on the place. The five terrorists and a chef of the café were killed in the commando operation. Another staffer died of his injuries in hospital.
Around six months after the attack, the café reopened a few blocks from its original location.
Samia Yasmeen Prema, sister-in-law of Nadia Benedetti, one of the dead Italians, broke down in tears at the site.
"Nadia always stood for the rights of the refugees in Italy. She also worked for the humanitarian cause in Bangladesh. We never imagined someone like her would become victim of such a heinous incident," said Samia.
"We want justice for Nadia."
The place was swarmed with people of all ages, including three-and-a-half-year-old Nure Jannat who came with parents.
Noushin Nova, who studies in the US, recalled the sacrifice of Faraaz, one of the three Bangladeshis killed in the incident, saying he is a role model of friendship.
Twenty-year-old Faraaz Ayaaz Hossain, a student at Emory University's Goizueta Business School in the US, was given the choice of walking free from the café.
But he refused to leave his friends -- Abinta, a Bangladesh-born US citizen and also a student at Emory University, and Tarishi, an Indian student of the University of California, -- with whom he had gone out to have dinner. He was brutally killed along with his friends.
Also yesterday, Masuda Begum was seen with a picture of her son, Zakir Hossain Shaon, 19, a restaurant staffer who was detained as a suspect on that night and died of wounds at Dhaka Medical College Hospital on July 8. She demanded justice for her son.
Shahriar Kabir, president of Ekattorer Ghatak Dalal Nirmul Committee, said, "The government has become successful in curbing militancy, but we all have to work together to root out the menace from the country."
He demanded the government ban religion-based politics.
Cultural Affairs Minister Asaduzzaman Noor was there too. He said the Holey Artisan siege was a big blow to Bangalee's culture of secularism and coexistence.
Mukhlesur Rahman, additional inspector general of police, said fighting the terrorists instantly was a major challenge on that fateful night.
"But taking lessons from it, we have made an all-out effort so that Bangladesh is not branded as a terrorist country in international arena." 
A ruling Awami League delegation led by General Secretary Obaidul Quader, BNP delegation led by Senior Joint Secretary General Ruhul Kabir Rizvi, Dhaka Metropolitan Police Commissioner Asaduzzaman Mia, Prof Badiul Alam Majumdar, secretary of Shushashoner Jonno Nagorik; sculptor and freedom fighter Ferdousi Priyabhashini, educationist Dr Rasheda K Chowdhury, among others, paid tributes.
To mourn the victims, programmes were held at different places across the country.
From a rally at the Central Shaheed Minar in the capital, Sammilito Sangskritik Jote leaders urged the government not to compromise ever with the communal and radical forces.
Sachetan Rajshahi Basi, a citizen platform, organised a meeting in front of Rajshahi Government College Shaheed Minar in the afternoon. Speakers there called for a strong resistance against militancy.
People of Katigram village in Manikganj organised events in memory of assistant commissioner Rabiul Karim, one of the two police officials who died in the attack. They also placed wreaths at his grave.