What to look forward to in the Gulshan Society Book Fair 3
The Gulshan Society Book Fair 3, running from March 9-11 at the Gulshan Lake Park, brings a plethora of events—from storytelling to reading sessions.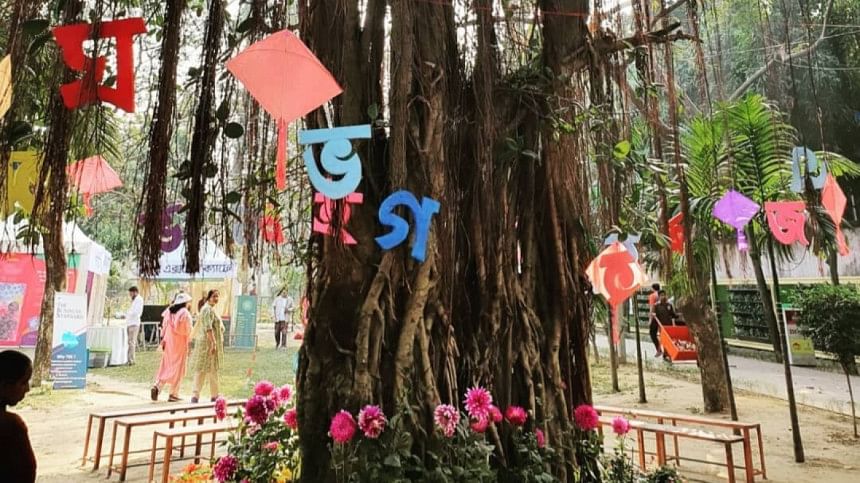 The Gulshan Society Book Fair 3 began today at the Gulshan Lake Park with a plethora of multifaceted events—from storytelling to reading sessions. 
Organised by Shayaan Seraj, Convenor of the Gulshan Society Lake Park Management & Zone 5, the fair will continue at the Gulshan Society Lake Park on Road 62, Gulshan 2 until Saturday, March 11. 
Interested readers can buy books and merchandise from stalls by University Press Limited (UPL), Prothoma, Bookworm Bangladesh, HerStory Foundation, ULAB Press, and more. 
For readers interested in the history of Bangladesh, this morning saw a reading session of Golden: Bangladesh at 50 (UPL), which was led by author and the editor of the book, Shazia Omar. At 4 PM today, there was a session moderated by eminent academic, critic, and translator Niaz Zaman, editor of An Ekushey Anthology, which reflects through literature the history of the Language Movement and how it impacted and inspired the independence movement. 
On Friday, there will be reading sessions which cater towards younger readers. Titled Korolla Shmorolla (a collection of stories about loving and hating the vegetable) and Jhal Jhamela ("stories of brave children who declared chillies despite eating them!"), the sessions will be conducted by the author Zobaida Nowshin at 12 PM and 3:30 PM respectively. A similar session will be held on Saturday, 12 PM, titled Choto Rakosher Boro Boi (a book of truths on adolescence) by Zaima Hamid Zoa, Co-Curator of Sister Library Dhaka, and Salzar Rahman. Sister Library will also be conducting a zine-making workshop from 4 to 6 PM in their tent. 
For readers who are interested in fiction and creative writing, Star Literature will be hosting a short story reading session moderated by Sarah Anjum Bari, the Books and Literary Editor of The Daily Star, on Friday at 4PM. Star Literature writers Sumaya Mashrufa, Tashfia Ahmed and Kazi Mahdi Amin will read out from their work. 
It will be followed by a session with Professor Shamsad Mortuza and Professor Kaiser Haq, Professors at the Department of English & Humanities (DEH) at University of Liberal Arts Bangladesh (ULAB), who will be discussing the journey of ULAB press transitioning into an academic press. Afterwards, renowned author Sudeep Chakravarti will host a conversation on Poetry in the Park with Professor Kaiser Haq and poet, writer, and Dhaka Lit Fest Co-Director and Producer Sadaf Saaz.
Saturday 11 AM will see a session by Mohammad Isam, ESPN Cricinfo's Bangladesh correspondent—a treat for cricket fans of all sorts. There will also be a conversation session with renowned author and historian Muntasir Mamoon, where he will be discussing one of his newer books, Prithibir Pothe Bangladesh: Cycle Ey Alaska Theke Toronto (UPL, 2023).
At 4 PM on Saturday, the session titled Institutionalisation of Creative Writing: A session with DEH Alumni and Students will tackle issues related to the impacts of teaching creative writing in a classroom. Can creative writing be nurtured or shaped through institutional set ups? How can teachers contribute to developing new writers? The session will discuss these topics, moderated and participated in by students and alumni of Department of English and Humanities, University of Liberal Arts Bangladesh.