'We dissented Pakistan as it ignored the rights of the people of our region'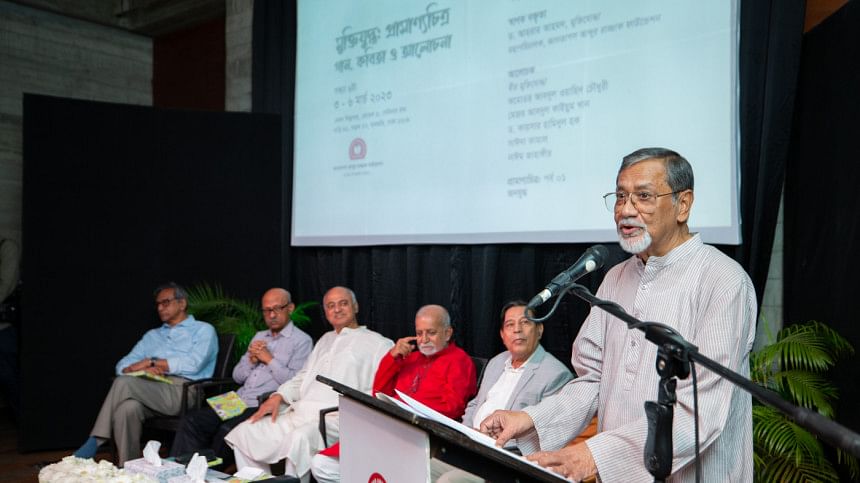 "I am blessed to be a part of a generation of people who did not think twice before fighting for the country, and a generation who loved the idea of a free nation", said eminent freedom fighter Nayeem Jahangir at Day 1 of the Muktijuddho: Pramanno Chitro series of events organised by Gyantapas Abdur Razzaq Foundation (GARF). 
The four-day event, which launched on March 3 at the Bengal Shilpalay in Dhanmondi, Dhaka, will feature documentaries, songs, poems and discussions commemorating the Liberation War. 
The inauguration included opening remarks by Bir Muktijoddha Shah Syed Kamal and recollections of the war shared by freedom fighters Commodore Abdul Wahid Chowdhury, Major Abdul Qayum Khan, Dr. Kaiser Hamidul Haq, Saeeda Kamal, and Nayeem Jahangir. The second day of the event today will include musical performances by freedom fighters Naila Zaman, Sharmin Mursheed, Daliya Nowshin, Debu Chowdhury, Shaheen Samad, Enamul Hoque and Milia Ali. 
The next two days will see freedom fighters, politicians, researchers, reciters and artists from Swadhin Bangla Betar Kendra share their experiences.
"There will be poetry recitations, and we will conclude the event with another panel discussion on March 6," Dr. Ahrar Ahmed, Director, GARF, said during his welcome speech. 
Commodore Abdul Wahid Chowdhury was serving as a submarine specialist for the Pakistani Navy in France at the time of Bangabandhu's historic speech on March 7. Looking back on those days, he shared, "For the ones among us who were born during the British era, we know that we were unwritten slaves, waiting for independence. This saga continued even after 1947." 
Commodore Chowdhury stayed connected to the liberation struggle through the radio—Voice of America and BBC's broadcasting of stories from Bangladesh, Abdul Gaffar's Salaam Salaam song, and Bangabandhu's speech. 
"Only India and Russia supported us after March 26. I, along with 9 others, managed to reach Bangladesh and became a mutineer. I led to the initiation of Operation Jackpot. I started the naval commando in Bangladesh and trained several fighters near the river banks. We, being a strong naval unit, stopped the entry of resources through water and thus Operation Jackpot became a huge success", he recalls. 
Saeeda Kamal, who was a Charukola student, shared her experience of helping with relief distribution and treating people. 
"I worked tirelessly during this period and our collective efforts led to freedom", she said. "In the present time, we are moving away from the four pillars of the constitution. People now do not feel safe in the nation we fought for. This is not the Bangladesh we dreamt of, and I really hope we can all work together towards creating the ideal nation."