Christy Lefteri's 'Songbirds': The invisible life of migrant domestic workers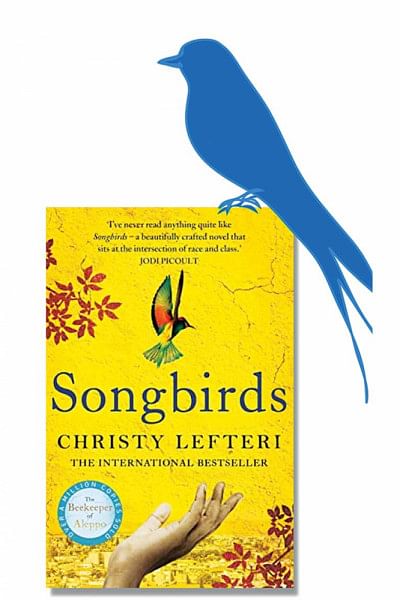 "Absence is the highest form of presence." This Joycean quote could not be truer for Nisha.
One day, after her husband is swallowed by the cave while mining for gems in Ratnapura, Sri Lanka, Nisha makes the tough decision of sailing to Cypress for her livelihood. She ends up as the nanny for the child of a woman named Petra. Nisha, like all nannies, is conveniently invisible behind the wholesome meals cooked on time, the garden well-kept, and the child taken care of. But when she suddenly disappears, leaving her passport behind, Petra begins to feel her presence for the first time. Songbirds (Manilla Press, 2021) is a tale of migrant domestic workers whose presence becomes more vivid only once they go missing.
Nisha's story is not entirely a figment of imagination by author Christy Lefteri. In 2018, five migrant domestic workers and their two children went missing in Cypress. Even after the cases were reported, no investigation or even search was initiated. The police simply dismissed them as runaways. It wasn't until two years later that the real and more tragic fate of these women was discovered.
Though the names and many details of the original victims are not preserved, Songbirds holds the essence of the event. Lefteri explores how the police remained negligent to the cases only because the victims were foreign women from poor countries.
Nisha's disappearance, similarly, is not taken seriously by the police because to them, migrant domestic workers are the "drifters of the world" who drift to lands of better opportunities, unanchored by family ties. Little understood are the circumstances that force these nannies to mother their own children through a virtual screen—Nisha doesn't get to see her daughter for 10 years except for video calls twice a week, but it is a part of the price she pays to save up for Kumari's education.
Nisha calls Kumari using an iPad from Yiannis—Petra's divorced neighbour, and her lover. She knows it is common for employers to dismiss their maids if an affair is discovered; yet she finds comfort in spending nights with this man.
Yiannis himself is another complex character. An investment banker beaten by the blows of the 2008 financial crisis, he has been lured into the illegal and dangerous trade of poaching songbirds. Once he steps into this trap, even if he wants to, he's unable to break loose of the neatly sealed underground world of poaching—thus metaphorically transformed into a songbird stuck in a net.
These songbirds migrating from Africa mirror the soul of the migrant domestic workers. They migrate to foreign lands to seek freedom and new opportunities. Like the poached birds, the workers too are trapped with huge debts to the agencies that helped them find work. Like songbirds that keep singing even when they are stuck in the poacher's mist net, these women, despite the crippling debt and prejudices, dream of finally saving up enough for a good life back home.
Against this backdrop, Christy Lefteri conjures an immersive world through food. Recipes of the savoury dhal and sweet aluwa Nisha cooked for her employers shows local Sri Lankan cuisine being brought to Petra's Cyprioyt home. The pages become aromatic as Yiannis roasts haloumi and olive in the forest or as Nisha's husband cooks flat crispy bread named godamba roti and delicious green jackfruit curry with pandan leaves and coconut milk.
But not once do we hear Nisha's voice. Her life is told the way it was lived: from the perspective of others. Her story is a tragic one of many migrant domestic workers who take flight to find freedom but find themselves trapped in mist nets of racism and misogyny.
Noushin Nuri is studying business in school and literature at home. She can be reached at [email protected]