The beauty of translation and Tagore's lyricism
"This book is a way for me to express my own emotions associated with Tagore's lyrics", Fakrul Alam shared his thoughts at the launch of 'Gitabitan'
According to even the wisest poets among us, the meaning that we lose when we translate poetry from one language to another is the truest essence of the poem. If that is indeed true, the art of translation is futile. But many have seen something different in this activity. When translating a piece of literature, they unearth new meaning and present it in a completely new language. Most often, translation is done to make a selection of literature accessible to a new crowd, but what about old poems and songs? Many of which are very well recognised even today. What new meaning can we glean from translating these works?
Gitabitan: Selected Song-Lyrics of Rabindranath Tagore, published by Journeyman Books this year, serves to be an exploration of this very concept. Fakrul Alam is a veteran in translating Bangla literature into English, his enormous catalog of translation work of poets and writers from the breadth of our history stands testament to that fact. With this new work, he delves into the songs of the most influential figure in Bengali literature, Rabindranath Tagore.
"Though much of my formal education has been in English, I've always had the privilege of having Tagore's songs practised in my house. My sisters have diplomas from Chhayanaut and sing Rabindrasangeet to this day. This book is a way for me to express my own emotions associated with Tagore's lyrics." Fakrul Alam shared his thoughts at the launch of Gitabitan, hosted on September 5 at Bengal Foundation. 
The event was an intimate affair, with prominent figures in Bangladesh's literature scene making an appearance. Fakrul Alam knew most of these figures as friends, and even commented as such, stating that he wanted the launch of the book to be a small gathering of friends and family. On the third floor of the Bengal Foundation building, the event began with a mesmerising chorus of Rabindrasangeet, aided by keyboard music as well as traditional hand drums. This was followed by small discussions on the book itself.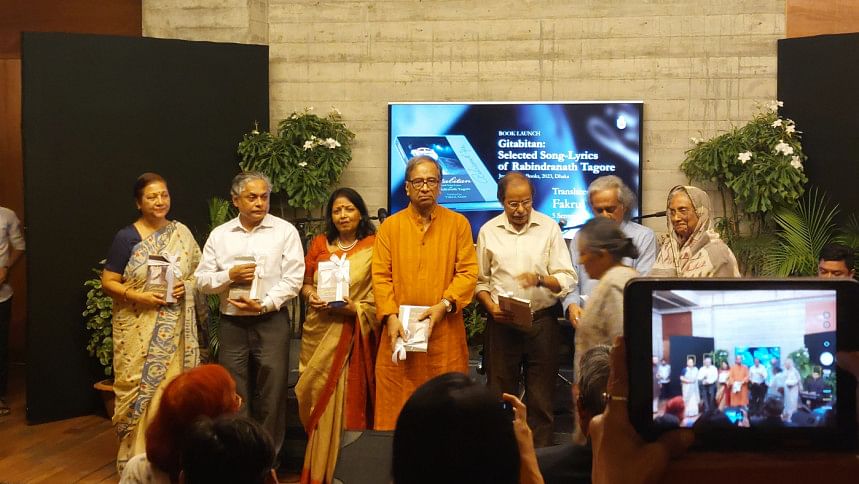 Critic and writer Syed Manzoorul Islam, a former professor of Dhaka University, penned a foreword in the book. In his foreword, he talked primarily of the struggle to convey the intricate meaning hidden in the Bangla language to someone reading the lyrics in English. According to him, the vast divide in culture can sometimes make it nearly impossible, and yet maybe closing that gap is exactly why translation must be practised so voraciously. 
In his speech, Syed Manzoorul Islam went on to speak about the artistic integrity of translation work. "Translating such work can be a struggle, and in fact, the myopia can even be lost if one isn't careful. But the ultimate truth is that translation is an art and it must be practised, even if it is done not for the sake of others but for yourself."
With this, the rest of the event unfolded with Fakrul Alam reciting the lyrics of Tagore translated by himself. Every recitation was followed by singers performing the song in Bangla. Aided by musicians, the performances were hypnotic. Professionally trained singers, many of whom have since moved into different fields of work, all of whom are associates of Fakrul Alam, created a warm atmosphere with their performances alone. Even those unfamiliar with Rabindrasangeet were met with the beauty of Tagore's lyricism in two distinctly separate languages.
This is perhaps where the art of translation is most potent. Translation is a tool to connect. To understand words in different ways when painted in the guise of a different language. Sometimes, they can even take poetry and lyricism of a time long gone and remind us why it is still relevant. 
Gitabitan: Selected Song-Lyrics of Rabindranath Tagore, containing over 300 Tagore song-lyrics translated into English, is now available for purchase in bookstores and on online stores.
Raian Abedin is a writer and a poet with a passion for capturing in words the many lives people lead, and the bizarreness hidden in everyone's normality.