Sangat Bangladesh holds memorial for feminist author and activist Kamla Bhasin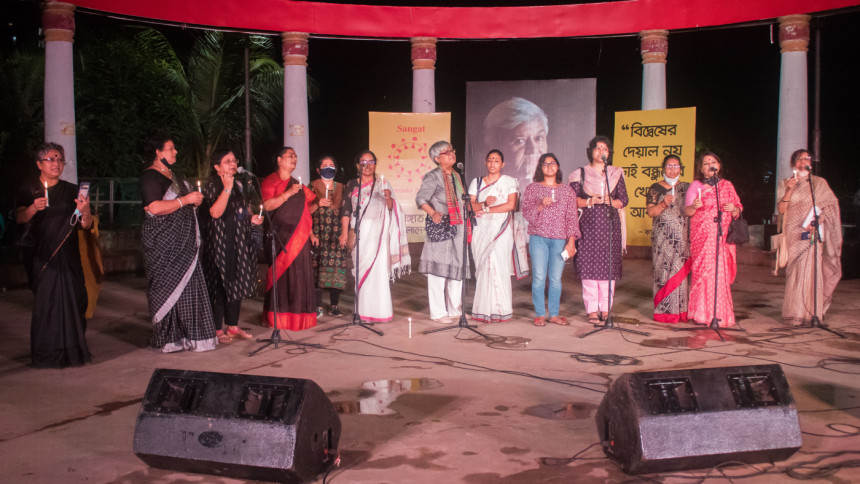 Sangat Bangladesh, a South Asian feminist network founded by Kamla Bhasin, held an event in Dhanmondi's Rabindra Sarobar on Saturday to commemorate the feminist author, poet, development worker, and educator who passed away last month. 
Hosted by feminist activist Fawzia Khondker Eva, the event began with a minute of silence in tribute to Kamla Bhasin. Development worker Tapati Saha recounted the life and work of Kamla Bhasin, followed by a musical tribute from Sohana Ahmed, coordinator of Sangat Bangladesh, performing to Kazi Nazrul Islam's "Ghumiye Geche Shanto Hoye Amar Ganer Bulbuli". 
Sangat's longtime friend Kazi Sufia recited a poem entitled "Tomake Kamla Bhasin," which she composed to honour her late mentor and comrade.
"Kamla always identified as South Asian, not Indian. She always tried to spread power and love among all of us", shared Khushi Kabir, coordinator of Nijera Kori. Her speech ended with Kamla's iconic chant of "Azadi".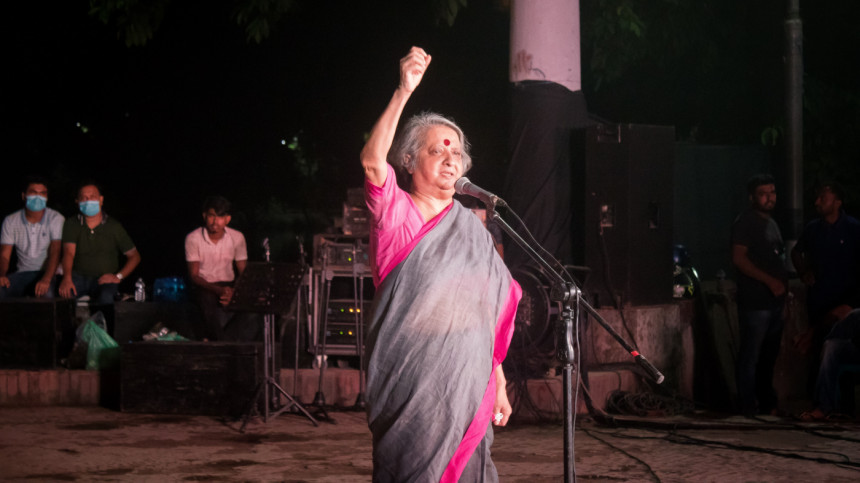 Renowned singer and development worker Nobonita Chowdhury, feminist activist Nahid, and Fawzia Khondokar performed to "We Are Feminist", one of Kamla Bhasin's most celebrated songs. 
"[She] was one of the most courageous people I have ever seen in my entire life. We need more Kamla now in every corner of the world", Dr Zafrullah Chowdhury, founder of Gonoshasthaya Kendra, mentioned in his speech. 
Author Julian Francis, Naripokkho founder Shireen Huq, and activists Naznin Pappu, Nahid Sultana, and Shamima Parvin shared their memories of Kamla Bhasin. 
The session ended with a lighting of candles amidst choruses of "Milemishe Nachire Gaire", written by Kamla Bhasin and translated by Fawzia Khondker Eva. 
Kamla Bhasin (1946-2021), south Asian feminist icon, activist, poet, author, and social scientist, advocate for peace and mentor to multiple generations of women's rights activists in the subcontinent and beyond, passed away at the age of 75 due to liver cancer on September 25, 2021. Read our tribute to her work and her contribution to children's literature, here. 
For more book-related news and views, follow Daily Star Books on Facebook, Instagram, Twitter, and LinkedIn. Write to us at thedailystarbooks@gmail.com.