'The Dhaka Review' pays tribute to Abdul Gaffar Choudhury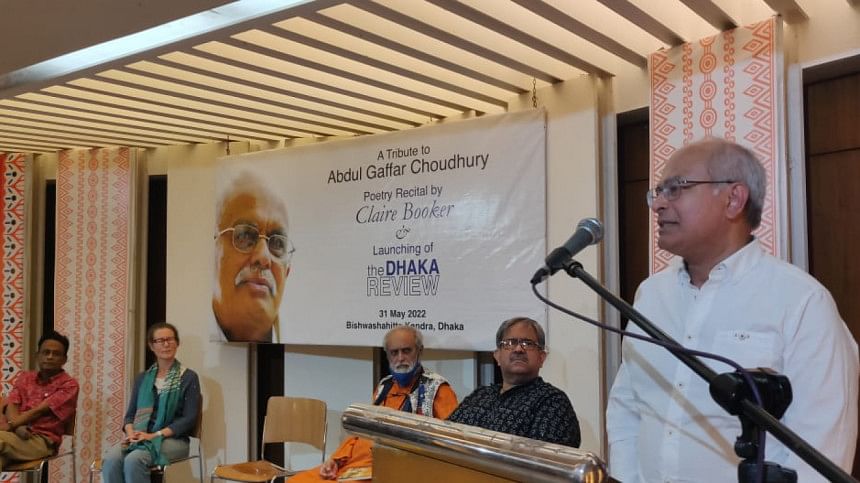 A memorial meeting of veteran writer, popular columnist and journalist, Abdul Gaffar Choudhury, author of the song, 'Amar Bhaier Rokte Rangano' was arranged in the main auditorium of Bishwa Shahitya Kendro on May 31 (Tuesday) on account of his passing on May 19 of this year.
At the ceremony, the writer's son, Anupam Choudhury and daughter, Indira Choudhury recalled some of the good memories of their late father and expressed their gratitude to the people of Bangladesh for their immense love and respect towards him.
Abdul Gaffar Choudhury's daughter-in-law, Claire Booker, who is a renowned English poet, recited poetry during the program and expressed her heartfelt sentiments about her late father-in-law.  
Mohammad Nurul Huda, Director General of Bangla Academy, expressed his deep sorrow and talked about Abdul Gaffar Choudhury's courage in always adhering to truths. He talked about the Gaffar's role as a freedom fighter in the history of Bangladesh, including in the language movement and the Liberation War, and narrated other various stories of the constitutions. 
Prominent poet Jahidul Huq also took part in the discussion. Bangladesh has lost a pioneer who was progressive, creative, and believed in the spirit of liberation and freedom, Huq said.   
Pro-Vice Chancellor of Dhaka University and eminent poet Dr Mohammad Samad gave his testimonial about Abdul Gaffar Choudhury as well. 
Other speakers in their speeches attested that Choudhury's immortal song of 'Amar Ekushey' "gave immense courage and inspiration to the Bengalis during language and liberation movement[s]". 
Prominent reciter Progga Laboni also recited a poetry of Abdul Gaffar Choudhury in the event.
The Dhaka Review, a poetry journal edited by poet Aminur Rahman, was launched on the occasion. Along with poets Mohammad Nurul Huda, Jahidul Huq and other guest poets—Tarik Sujat, Reaz Ahmad, Ayesha Sharmeen Chowdhury, and others—Rahman recited poems in memory of the beloved writer.
The program was organised by The Dhaka Review.