Kamla Bhasin believed in the power of love, not the love of power
A year ago today, a mentor, guide, sister and friend – not just to me, but to thousands of South Asians across the globe – left the world, leaving behind a gaping hole in our hearts and in the feminist movements in the region. Kamla Bhasin, prominent feminist, gender trainer, writer and poet, was born in Punjab (now in Pakistan) and grew up in India, but she always rejected narrow definitions of citizenship and identified as a South Asian. She would always say, "We want peace in South Asia, not pieces of South Asia." And truly, she did belong to all of us – she was loved, admired and respected across the region, helping sustain the feminist movements in each of our countries, but most importantly, bringing us all together under a common platform to fight patriarchy, capitalism and jingoism.
I met this incredible person 35 years ago, and perhaps it would be fitting to mention that her friendship, guidance and love changed me for the better. And this is not just my personal experience but that of countless others who had the good fortune to call her their friend and mentor. She left an indelible mark on those she trained or worked with – she planted the seeds of activism in those not previously exposed to feminist thoughts and galvanised those already working on women's rights issues to fight harder against patriarchy and violence against women.
I first worked with this larger-than-life personality in 1996. Proshika, one of the biggest national NGOs back then, had invited her to conduct a series of gender training sessions for their senior management, mainly the male staff members. Kamla Bhasin had long understood that engaging men in the process of transformation was critical. During the sessions, she didn't need powerpoint presentations, different training methods or pen or paper – she spoke with conviction, provided examples from our everyday lives and found ways to engage with each participant, making us laugh, cry and sing along the way. She moved us all, and made us confront our own biases and hypocrisies, in that characteristic way that only Kamla could.
In April 1998, Kamla designed and facilitated a workshop at Koitta, Bangladesh, where SANGAT – which stood for South Asian Network of Gender Activists and Trainers and later became The South Asian Feminist Network – was first convened, with the aim to bring together experienced and budding activists and academics from South Asia to learn from each other and further the feminist movement in the region. Each year, Kamla would help design and facilitate a month-long gender course, which has now become well known as the most comprehensive and compelling feminist training in the region.
While the theoretical discussions facilitated by notable activists and academics in the region broadened our minds, the music, dance and laughter during and after the sessions broadened our hearts and solidified our sisterhood and solidarity. Anyone who attended these trainings would vouch for how their lives changed forever because of it. SANGAT, under Kamla's guidance, played an instrumental role in connecting fragmented movements for peace, justice and gender equality in South Asia. Kamla could have been an executive director of a big NGO or donor agency, or a bureaucrat, but she never wanted those positions. Leaving behind a successful career in the UN, she dedicated her life to inspiring thousands of human rights activists, trainers and friends all over South Asia so that we could work together, setting aside our differences, to create another world. And she believed that another world was possible. She didn't believe in hierarchy; love was the centre of her life and teachings. She truly believed in the power of love over the love of power.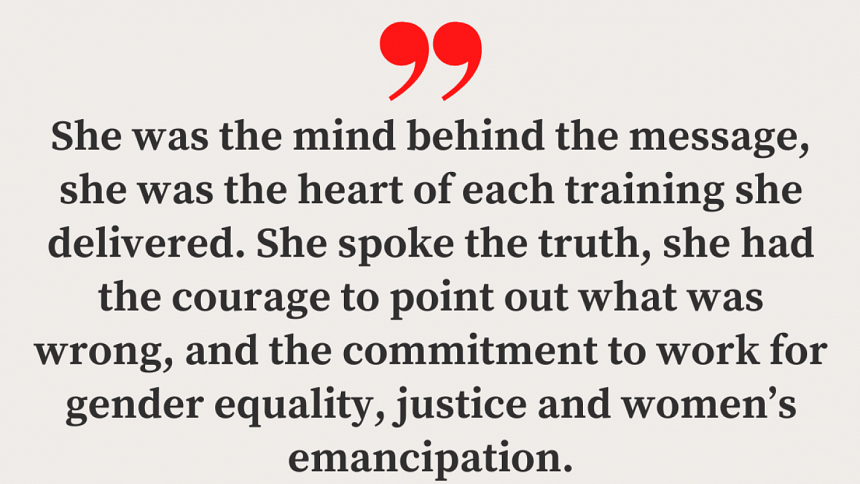 When she visited Bangladesh, she refused to stay at fancy hotels. She would stay at our house or that of Khushi (Kabir) Apa. She was an extremely organised person and liked to iron her clothes herself meticulously. She loved Bangladeshi food, especially aloo bhorta, chicken curry and daal. She was a brand ambassador for the gamcha, and every so often she would ask to be taken to Elephant Road to buy her favourite white crockeries from Shinepukur or white handkerchiefs from Gausia. Kamla, who was a comedian too, would enthrall us all with her never-ending supply of "Sardarji" jokes. She learnt to speak Bangla on her own and insisted on speaking it when she was in the country. She loved Tagore songs and joined in every time we sang.
Kamla was a multi-talented personality. She wrote several booklets in simple English so that development practitioners from different backgrounds could read them easily and understand complex concepts. Her children's books challenged gender stereotypes and offered new ways of exploring and seeing the world. She crafted powerful slogans and legendary songs. She was the mind behind the message, she was the heart of each training she delivered. She spoke the truth, she had the courage to point out what was wrong, and the commitment to work for gender equality, justice and women's emancipation. She was an amazing person with an infectious energy, doing yoga, conducting trainings, writing poems and songs, running around the world with her message of love and solidarity, and supporting small women-headed NGOs and groups.
I miss you Kamla Bhasin, and I feel there are not enough people born in this world like you. You were a lighthouse in this sea of injustice. You will remain in our hearts and minds, wherever you are. As Tagore, whom you admired, said, "Let your life lightly dance on the edges of time like dew on the tip of a leaf."
Fawzia Khondker is a women's rights activist and core member of Sangat Bangladesh.