Rising dollar prices impact book trade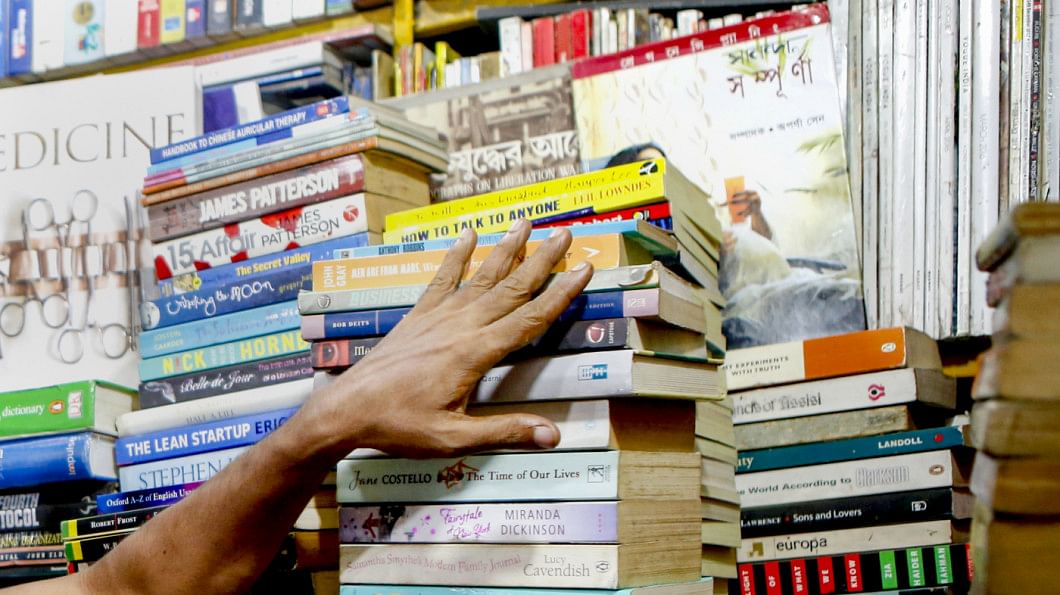 With the price of paper rising worldwide, the prices of printed books, magazines, and newspapers too are increasing rapidly. Printed books are becoming inaccessible to readers. As a result, publishers are fearing that the number of readers as well as buyers will gradually decrease. 
The rise in dollar prices is a major reason, driven by the post-pandemic situation and the Russia-Ukraine war. Publishers in some countries have even stopped publishing books. 
The most crucial time to sell books in Bangladesh is during the Amar Ekushey Book Fair in February, preparations for which are underway right now. Although the paper for books is produced in the country, the mills are dependent for their supply of ink and plate on foreign raw materials. The price of books is thus subject to increase. 
Mofiuddin, proprietor of Amanot Trade—a paper dealer in the capital's Nayabazar area— told The Daily Star, "The price of paper was stable during the pandemic, but the recent hike in the price of a dollar has caused the price of paper to increase too much. If one rim (item) of local paper was earlier priced at BDT 1,300, the current price is BDT 1,900; glossy sticker paper was BDT 2,000, now it is BDT 3,000. Carbon paper was priced at BDT 2,400, now it is BDT 3,300; foreign offset was BDT 3,500, it is BDT 4,850 at present. This is happening due to the price of paper fluctuating with dollar prices."
"Everytime there is a hike in the price of paper, we have to adjust things and that results in readers having to bear the extra cost. This is happening everywhere—people have to buy their daily necessities at a higher price, meaning that they are less likely to buy books", said Mahrukh Mohiuddin, Managing Director of The University Press Limited (UPL). 
"This will dampen people's motivation to publish books. I think the overall crisis will have a negative impact. Won't this naturally lead to the erosion of our intellectual practices?" she asks. 
Shahidul Islam Biju, owner of Pathak Shamabesh bookstore, shares, "We haven't yet raised the price of books even though prices of everything in the country, including printing and paper, have soared up. We have to consider these things while reprinting books. Prices of foreign books have also gone up. We have maintained our old prices so far, for the sake of our readers. But I don't know if we'll be able to continue this."
The trend seems to be apparent worldwide. Publishers Weekly cited in February that the US based publication giant Ingram is going to increase the overall price of a book by six percent. Front Edge Publishing's supply chain uses Ingram's Lightning Source system. This is a global network of book production which distributes books to readers from North America to all around the globe. 
According to Janice Butler, senior manager of Ingram Content Group, Russia is an important source of timber for Europe, and since the invasion of Ukraine, this trade has completely stopped. And one of the materials for making paper is wood. 
The Times of India similarly reports increases in the price of paper affecting the Bangla publishing industry in West Bengal as the input costs—paper, ink, binding materials, and transport costs—have increased. 
In Pakistan, meanwhile, a report by The News says that the price of paper has more than doubled across the country due to their government's lack of interest in stabilising prices. Aziz Khalid, chairman of the Pakistan Publishers and Booksellers Association, pointed out that no paper is available for the publication of Sindh Text Book Board books. 
Writer Ahmad Mustafa Kamal tells The Daily Star, "For those who read books, reading is not just a luxury, but a part of their life. It is an indispensable tool to lead a healthy life. Food prices are increasing, travel costs are increasing, medicine prices are increasing, which means everything is spiralling out of control now. How will we survive if this continues?"
Translated by Maisha Syeda and Hrishik Roy.