BOOK REVIEW: FICTION
Tarana Husain Khan's 'The Begum and the Dastan': Patriarchy is a labyrinth that defies time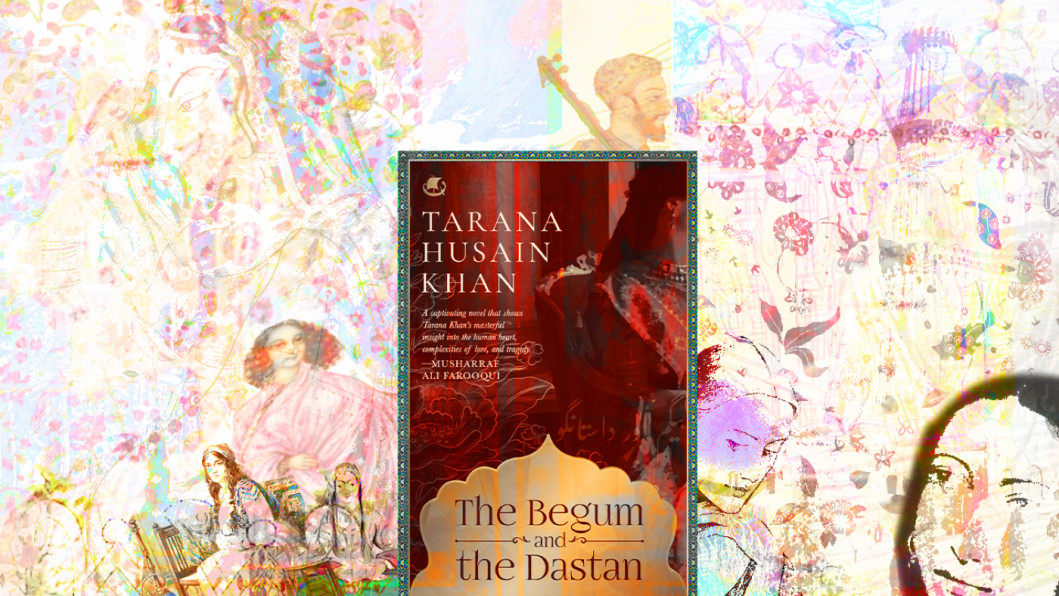 I am convinced that while writing her book, The Begum and the Dastan (Westland Publications, 2021), Tarana Husain Khan's aim was to leave her readers in a literary stupor, dizzy and yearning for more. A nested tale of love, inheritance, social conflicts, and survival, the novel boasts both real and fantastical themes. The book oscillates between three narratives: the story of the spirited Feroza Begum set in 19th century British India; the story of present-day Ameera, Feroza's great-granddaughter; and that of Mirza Kallan, a dastango (storyteller) who sips opium at the bazaar chowk and weaves tales so magical that the ambits of fantasy and reality become blurred to him and readers alike.  
Wilful and fierce of spirit, Feroza Begum is the beautiful daughter of a wealthy Rohilla Pathan in the princely state of Sherpur during the British Raj. Her keen, inquisitive mind—admired by her husband and siblings but disapproved in a society so patriarchal—becomes the reason for her downfall. Happily married and loved by her family, young Feroza defies her father's wishes to visit the celebrations taking place at the Nawab of Sherpur's palace. At the event, Nawab Shams Ali Khan is enamoured by Feroza's fire and beauty and wants her for himself, as another gem in his glittering harem full of women. The Nawab confines her within walls against her will, forced to divorce her husband and abandoned by her family. Feroza prays for deliverance but she does what she has to for survival—she marries the Nawab and is swept away in the confusing whirlpool of emotions, the grandeur and squalor that make up the life of a reluctant queen.
In the present day, Ameera, the great-granddaughter of Feroza Begum, listens with rapt attention to her Dadi recounting Feroza's life story as a cautionary tale about female recklessness. Amidst these overlapping narratives, Mirza Kallan charms his audience with the story of a tyrant sorcerer in his magical city where women are tied with chains and tacit rules.
The lives of Feroza and the other women in the Nawab's harem are a stark contrast to his depraved, lavish life. The wives lead a life of puritanical obedience while the Nawab exercises despotism by punishing people who dare to defy him, usurping property of dissenters and capturing women he desires with or without their consent. As Feroza navigates this maze of 19th century court life thrust upon her, and as Ameera absorbs Dadi's account of Feroza's story, both women, despite the century of time between them, realise with grim clarity the cruel, unspoken rules that govern the lives of women regardless of age.
Both women cautiously tread a fine line between propriety and what society has labeled as female vulgarity. Dreams, aspirations and goals become secondary to gendered expectations. Misinterpreted religious texts and archaic tradition govern their lives.
Tarana Husain Khan is a master of imagery; her writing is imbued with elaborate descriptions of resplendent soirees, gloomy dungeons, and busy bazaars, that sweep you into the glamour and delusion of court life. Just as quickly, she will steer you through time and bring you face-to-face with the subversion of women's empowerment in present times.
The pilgrimages of survival across the pages of The Begum and the Dastan have not yet come to an end. Written in invisible ink, Feroza's story continues on in contemporary women as we try to navigate the toiling maze of age-old patriarchy. Turning the last page of this book does not constitute its ending; it is but a pause. A pause to breathe, to reflect, and to perhaps rethink our choices as individuals and a society.
Sameirah Nasrin Ahsan is a mechanical engineer and aspiring author based in Dhaka. For now, she is content with reading and sharing the stories that make her think beyond herself. Instagram: @booksnher.
For more book-related news and views, follow Daily Star Books on Facebook, Instagram, Twitter, and LinkedIn.