An odyssey of love and loss
'In Love: A Memoir of Love and Loss' (Penguin Random House, 2022), by Amy Bloom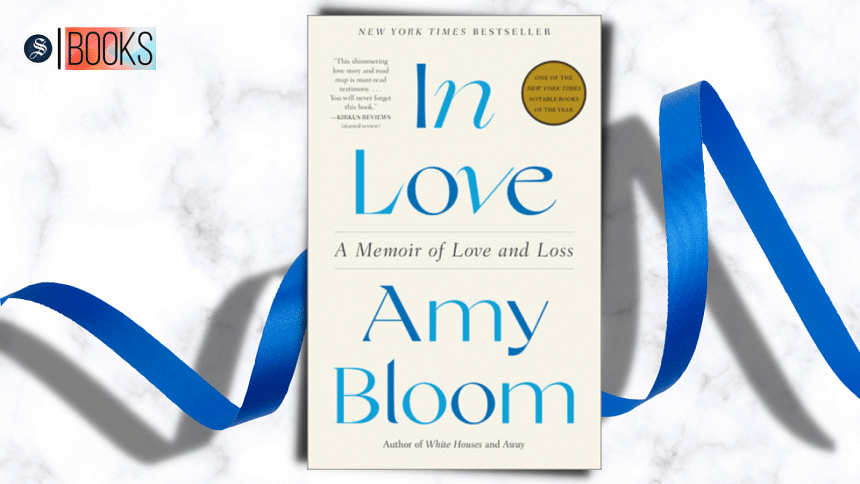 TRIGGER WARNING: Assisted suicide
It is very easy to be in denial when we realise our loved ones are in trouble. Somewhere, we feel maybe we haven't loved enough. Instead of intervention, we try to cure everything with love and more love. At times, this phenomenon instigates things to turn a different, sometimes unhappy route. In In Love: A Memoir of Love and Loss, author Amy Bloom talks about her own journey, when her husband who had Alzheimer's chooses to end his own life rather than slowly succumbing to the disease. This nonfiction revolves around the powerful emotions of love and loss, the dilemma surrounding assisted suicide, and the impact of such choices on those left behind.
As I read the book, I was in a constant state of dilemma, pondering on whether Brian Ameche's decision to end his life was a brave one or not. In the book, the writer gives us an account that transitions between instances where she had seen but overlooked her husband's eccentric behaviour and their conversation and journey with Dignitas. Dignitas is an organisation in Switzerland that assists individuals diagnosed with medical conditions who choose to end their lives rather than sustain the slow, uncertain agony of a "natural" death.
The memoir begins with Ameche and Bloom's journey to Switzerland, their last trip together as a couple. The timeline shifts between the past and Bloom's present, allowing readers to understand their respective states of mind and why something like assisted suicide was considered the only option for a middle-aged couple who were so much in love. Bloom takes over all her husband's responsibility—such as letting the family know about the circumstances and making sure he gets an approval from Dignitas. Bloom's position is paradoxical—she is both an accomplice and a supportive spouse. Getting Dignitas' green signal involved passing a lot of hurdles and if Ameche was diagnosed with mental health issues at any point, the authority would not have moved forward with the procedure.
In the end, Ameche takes the anti-emetic supplied to ensure the patient doesn't vomit up the prescribed lethal dose. He takes his time and tells Bloom, "I know I'm going, I'm ready. I'm just not going to hurry." Reading these lines brought tears to my eyes. The mere thought of my loved one about to go away forever, leaving behind the memories we shared together, broke my heart into tiny, million pieces. 
However, in a surprising turn, the last minutes Ameche spent with his wife were filled with football anecdotes. "I cannot manage to look interested in these stories" Bloom wrote, "because I'm not. He says nothing about our life, our love, our children, and grandchildren." But despite that, Bloom bids her husband goodbye when he takes a second dose of the anti-emetic and the lethal dose. 
In the book, the author also includes exercises which Ameche was given by the neurologist to diagnose his Alzheimer's. These, I found, could be helpful for those who would like to do a self test for themselves or their loved ones.
While reading the memoir, all I could think of was my father, who, I remember, despite admitting that he was forgetful and absent-minded at times, insisted that he didn't have Alzheimer's  and said that it was due to his lack of focus and old age. I realised I was very sentimental about the story and was sad and scared at the same time. I was sad for Bloom and Ameche, and I was also scared if we were overlooking my father's subtle changes in his behaviour.
I know for a fact that In Love will always stay with me and be one of those books that will always be close to my heart. We all have our fair share of stories of people who committed suicide for various reasons. However, this was the first time where I heard about a lively adult man who chose to die regardless of knowing he was loved and respected, who made peace with himself and everyone around him before dying.
Having read an account of someone who stood by her husband and helped him through an assisted suicide out of love was extremely heart-wrenching. I had difficulty getting over Amy Bloom's recount of her life, so I went through a big reading slump. But eventually, I made my peace with that story. 
Salwah Chowdhury is a bookworm and a toddler mom who works full-time at an NGO. She loves the rush of thinking, reading and writing and takes on freelance projects every now and then. Follow her on Instagram @salwah_chowdhury and share book recommendations or your thoughts on the article.