Isabel Allende's 'Violeta': A century of grief and introspection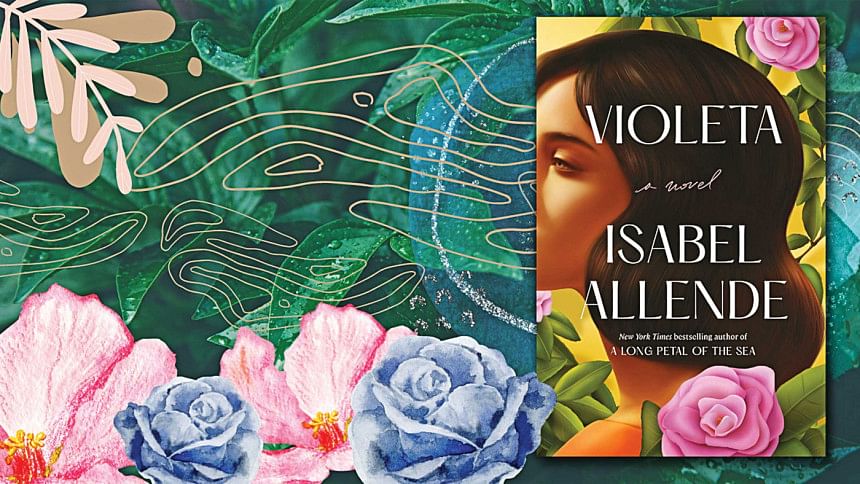 The lifespan of a century gave Violeta Del Valle innumerable memories, and she tells her story in Isabel Allende's new novel, Violeta (Bloomsbury Publishing, 2022). Writing to one named Camilo—someone she loves more than all others—Violeta recounts the saga of a hundred years. "I've witnessed many events, I've amassed a lot of experience, but either because I was too distracted or too busy, I haven't acquired much wisdom," she muses of her eventful life.
Violeta was born on a stormy night in 1920, in a fictitious country of Latin America. Her life is flanked by two global pandemics, the Spanish flu and 'Covid-19'. Allende puts out a disorienting picture of the repetition of history. States of emergency, mask mandates, misinformation and failed quarantaines; all containing an uncanny similarity a hundred years apart. Violeta speaks of a time when the tumults and triumphs of her story were recurrent in her part of the world. It was a time of political turmoil, chaos and carnage, coup d'etats aided and abetted by distant superpowers fighting a cold war. Violeta recalls that turbulent juncture of her life, "They lit bonfires in the plazas and burned books, documents, and voter registrations, because democracy had been suspended until further notice."
Countless people touched and shaped Violeta's life, like her brother José Antonio, who stood by her drastic life decisions, her Irish governess Miss Taylor, who became a part of her family, her love interest Julián Bravo, the fearless and conniving pilot, the Rivases, who took her in as a daughter, Torito, the simple giant wise in natural affairs, and many more. Oftentimes, the novel reads like a collection of life stories of other people, with Violetta's own story sprinkled in between to connect them as a whole.We get also a glimpse into the lives of the aboriginal people of the land. Their culture appears like a relic from the past, preserved and passed from one generation to another.
Sadness and suffering haunts Violeta throughout her life. Her childhood innocence is robbed by a family tragedy, dousing her family into abject poverty. She is abused in the name of love, and suffers in the death of friends and family. Allende creates a sense of stability in Violeta's life, that feels like the calm before the storm, only to shatter it with grief, breaking the serenity with new chapters of life, making space for new people with their own unique stories. She endures the most heart wrenching experiences, but her emotional upheaval is often undercut by a flat tone in narrative, lacking poignant prose. Even the most tragic life events sometimes come out as bland and prosaic. Maybe some of the essence was lost in the English translation that I have come across.
Violeta bears the mark of a woman born in another time, when "politics and business" were men's prerogative, and women were supposed to talk about their "ailments and servants." Her late ideological redemption isn't enlightenment, but a forceful eye-opening when a cataclysmic tragedy shakes her world. She admits her mistakes consciously, "I chose not to see, hear, or speak up during the most critical years," confessing of her apathy during the reign of terror. She is sceptical in her faith, declaring equality in the eyes of God as a "fairy tale", and cynical in her worldview, believing cruelty is inherent in human nature.
"We move at a turtle's pace, but over my long life I can attest to how far we've come," Violeta concludes her story with a hopeful note. In the end, the eponymous narrator of the story becomes incarnate of the history of a nation, her own life intricately woven within.
Md. Tawsif Mostafiz is in his final year at Islamic University of Technology.