Iowa's International Writing Program now open to Bangladeshi youth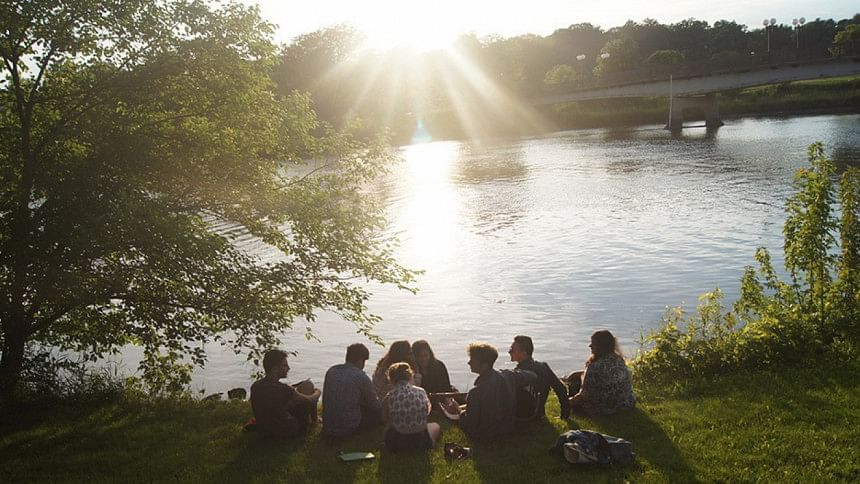 The International Writing Program is hosted by the University of Iowa, USA's premier 'writing university' known for pioneering creative writing programs; it is among the most prestigious platforms of global literary exchange. While the IIWP brings published emerging writers from around the world to Iowa in the Fall semester every year, their Between the Lines program is designed specifically for aspiring young writers looking to hone their craft. This year's applications are open to young writers from Bangladesh, as well as from Afghanistan, Egypt, Ghana, India, Iraq, Jordan, Lebanon, Pakistan, South Africa, Sri Lanka, Ukraine, and Zimbabwe. 
The virtual creative writing summer camp will take place from July 8 to 21, 2023. Applications are due by April 21. The program will host an online information session on Friday, April 7. 
"BTL participants build international friendships, learn about other cultures and literary traditions, and improve their craft under the guidance of a team of award-winning instructors in workshops, seminars, and master classes", the International Writing Program has posted on its social media. "Individuals with disabilities are encouraged to attend all University of Iowa-sponsored events." 
With this year's theme focusing on 'Peace and the Writing Experience', the writing camp will host 30 international students aged 15-18 years, free of cost. 
How to apply
The event is sponsored by the US Department of State's Bureau of Educational and Cultural Affairs. Interested writers therefore have to submit their materials to their local US Embassy, who will in turn nominate writers from the respective countries. 
To apply, writers need to submit 6-8 pages of original creative prose, fiction and/or nonfiction, and/or poetry written in English. Books and academic writing are not eligible. 
Secondly, they need to respond to two creative writing prompts: 'How does literature help us understand who we are and where we belong?' (3 pages) and 'Describe a time in your past when you had to engage with a new situation, person, or idea that initially felt uncomfortable or strange. How did you proceed? If you had the chance, what would you do the same, and what would you do differently?' (400 words). 
They must also submit a 250-word statement of purpose discussing the significance of creative writing in their life, and what they hope to learn through the BTL program. 
Each submitted work needs to be original, not reproduced, and originally written in English. 
Selected international participants will be informed in May. 
What they're looking for
"In the writing samples we want to see what best represents you as a writer today", the program mentions on its website. Successful applicants are expected to be passionate readers, though this doesn't mean they need stellar academic grades. 
However, fluency in English is one of the most important requirements. 
"It's very important that you be open to learning about the many different ways people live in the world and willing to share your own life experiences and unique point of view", the website further explains. 
Interested applicants need to contact the US Embassy, as their deadlines may differ from the official program deadline. More information is available on the program website.  
Past alumni of the University of Iowa's creative writing programs include writer and translator Shabnam Nadiya, a graduate of the famed Iowa Writers' Workshop, and author, translator, and Prothom Alo journalist Mashiul Alam, who participated in the International Writing Program in Fall 2022.