How Netflix's 'Shadow and Bone' adaptation can be improved
Season 2 of 'Shadow and Bone' will be out on Netflix on March 16—how can it do better justice to the texts than Season 1?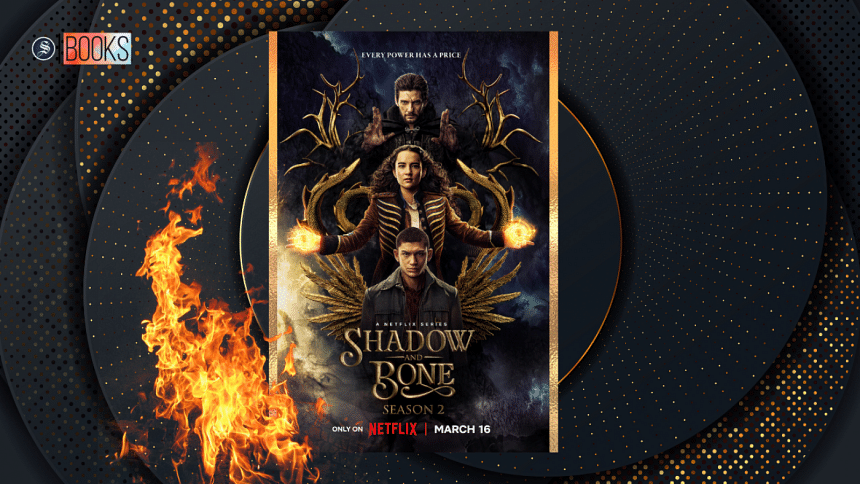 Every so often, a fantasy series with adventure, magic and an unfairly charismatic villain comes along and captures the imagination and attention of a passionate base of readers. And when that series leaps into a fully realised television adaptation, that niche fixation can become a global fantasy phenomenon overnight. Netflix hoped to do just that with Shadow and Bone (2021). The show revolves around Alina Starkov, a young soldier from war-torn Ravka who discovers that she has the mythical power to summon light and thus the responsibility to save her country from the swath of darkness, known as the Shadow Fold, that has divided it for centuries.
Fans of author Leigh Bardugo's bestselling Grishaverse novels will recognise this as the basic premise of her Shadow and Bone trilogy, published beginning in 2012. But the first season of the Netflix series, executive produced by Bardugo and showrunner Eric Heisserer, also incorporates characters and plot points from Six of Crows (2015), the debut book in a subsequent duology set in the same world.
Named for the elite magical soldiers known as Grisha who populate Bardugo's books, the Grishaverse currently spans one trilogy, Shadow and Bone, two duologies, Six of Crows and King of Scars, and a collection of short stories, The Language of Thorns (2017). The second and final entry in the King of Scars duology, Rule of Wolves, was released in 2021. 
While both the Six of Crows and King of Scars books take place following the events of the Shadow and Bone trilogy, the Netflix series thrusts some of the most popular Six of Crows characters, including criminal prodigy Kaz Brekker,  acrobat-spy Inej Ghafa, and sharpshooter Jesper Fahey into the Shadow and Bone action. Instead of focusing solely on Alina, the show's narrative switches back and forth between storylines until they finally converge. The second season of Shadow and Bone will be out on March 16.
Here is how I think the adaptation can be improved moving forward. 
Better world building 
The show's first season seemed to choose fast-paced action over giving viewers a full understanding of Ravka and its surrounding nations. 
It opens with Ravka at war with two main enemies—Shu Han and Fjerda—but it never gives any insight into why these nations are feuding in the first place. The implication seems to be that everyone outside of Ravka is unwelcoming of the Grisha. However, even Ravka's ordinary citizens and court don't seem very accepting of the magic users in their midst. It makes viewers question why they'd bother with a war in the first place, and the show's refusal to delve deeper into the history and perspectives of all three nations makes the whole storyline feel empty.
As Shadow and Bone doesn't delve into Shu Han and Fjerda, it also fails in its attempt to make a statement about racism using Alina's Shu roots. Rather than explain why our main character finds herself on the receiving end of rude comments and slurs, the show winds up pointing to a real-world issue without saying anything truly meaningful about it.
Even outside of the tensions between Ravka and its neighbours, Shadow and Bone doesn't put much time or effort into coherently unpacking its magic system or world. It may be a little late for a play-by-play of Grisha powers and Ravkan history, but the writers can find a way to work these things into the narrative of the second season, if they just slow down a bit. 
Alina's transformation 
When Alina was being trained in her Grisha powers in Season 1, there was a brief scene where she looked at a book about amplifiers. In that book were drawings of a stag, a sea whip, and a firebird. In the Season 2 trailer, Alina asks new character Sturmhond for his help. "You couldn't do it with one amplifier," he answers. We then get a flashback to that moment with the book from Season 1, with Alina speaking over it: "I need the power of all three."
In Season 2, Alina and her allies will set out to track down these mythical creatures so she can use their amplifying powers to destroy the Fold. 
But while it is joyous to see Alina's power grow, at the heart of the story is a concern over the corrupting influence of power. I will be on the edge of my seat to find out what the show does with it. 
Development of the Darkling's character 
Perhaps one of the most striking mistakes the writers of Shadow and Bone made was giving the creator of the Fold and the main antagonist the Darkling (a perfectly-cast Ben Barnes), the name General Kirigan. Not only does this undermine the point the novels attempt to make about him only being known by his title rather than a name and what that eventually does to him, but it also largely removes the mystery that surrounds the character. Alina turns against him after the depths of his villainy are revealed, but he is a deeply complicated man with complex desires for Ravka and Grisha everywhere. 
In Siege and Storm, the second book of the Shadow and Bone trilogy, the Darkling becomes conceptual. He appears in Alina's dreams often, and he is perceived as a threat of danger, rather than a human being in terms of the character in the narrative. 
Giving viewers more honest insight into the character and his motivations would make him more multi-dimensional and therefore a better antagonist, strengthening the overall story.
Spinoff for the Six of Crows characters
As readers, we are often presented with the "good guys" as our main characters—those slightly imperfect protagonists brimming with justifiable righteousness and honourable intentions. In the Six of Crows duology, the main characters are all criminals. Through their stories, we learn that even murderers have a moral compass, that lawbreakers have valid reasons, and that the irredeemable have value. 
The adaptation's blending of both the Shadow and Bone trilogy, which I consider aggressively fine, and the Six of Crows duology, which remains a pair of my favourite fantasy books, does help to broaden and deepen this rich fantasy world. However, it seems like the ragtag bunch of loveable rogues known as the Crows (called the Dregs in the books) were only included so that Netflix could spin them off into the storylines of the Six of Crows novels, which feature the main characters attempting to break into a heavily fortified palace and fortress known as the Ice Court. This heist story, touched by magic, taught me to look beyond surface and background and see the soul of the person beneath. It's about friendship, love, adventure, and surviving the worst that life throws at you. 
One would think keeping a fully developed, built-in spinoff in the back pocket would have been a smarter business move than trying to merge two unrelated narratives into one. 
Spinning the Six of Crows characters off into the heist narrative of the novels as soon as possible would allow both stories to get the attention they deserve without constantly competing with one another for screen time. 
All this is to say that should Netflix give Shadow and Bone enough time beyond the upcoming season to unravel its many tangled threads, there's little doubt that Bardugo's characters can sustain it.
Shababa Iqbal is a Journalism graduate from Independent University, Bangladesh (IUB), who likes Jane Austen's novels and Disney movies. Email: [email protected].