Five decades of Boi Mela: What has changed?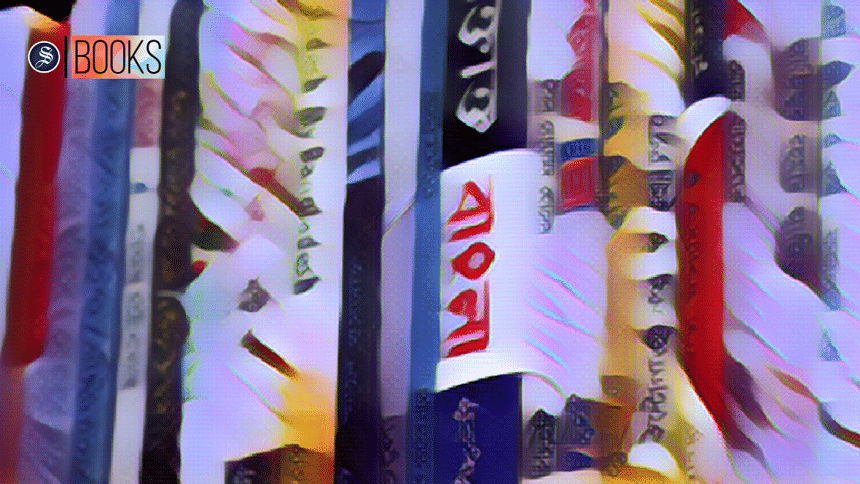 Amar Ekushey Boi Mela is an integral aspect of Bangladesh's history, culture, and literature. Over the years since its inception, the fair has become a cultural phenomenon as it provides readers and authors an opportunity to interact with each other. The fair celebrations hit their golden jubilee last year, and there have been a lot of changes over the past five decades—be it the shift from Bangla Academy premises to Suhrawardy Udyan, or the emergence of new themes within literature. Here is a walk down the memory lane. 
Chittaranjan Saha in 1972 started the practice by putting around 33 books on display on a mat under a tree in front of Bangla Academy. His publication house, Muktodhara Prokashoni, is one of the very first reasons for us to be able to celebrate Ekushey Boi Mela. Although Saha is acknowledged to be the Ekushey Boi Mela's founder, the book fair's history is deeper than most of us know. In 1965, the first book fair took place in East Pakistan. Sardar Jainuddin took the initiative by displaying some children's books on the ground floor of Dhaka University's Library. In 1970, he organised another book fair in Narayanganj, and finally in 1972, he arranged the fair inside Bangla Academy premises.
In 1974, the books were no longer displayed over mats. Rather, the very first stall was established by Muktodhara, which measured 8 by 8 feet. In 1975, four to five stalls were built by different publishers and books were being sold unofficially. The number of book lovers visiting these stalls grew gradually year by year and Bangla Academy officially took charge of the fair in 1978. In 1979, a book fair was held in the Bangla academy courtyard under a collaboration with Bangladesh Pustok Porokasok O Bikreta Samity. Five years later, a guideline was issued. The first ever Amar Ekushe Grantha Mela was held. 
The history of Boi Mela has been witnessed not just by the organisers but publishers, readers and authors. When the book fair became an annual phenomenon, it gathered an eager crowd of literary enthusiasts who would spend hours walking through the stalls and picking their favourite titles. Talking about the changes in reading habits, eminent academic and author, Emeritus Professor Serajul Islam Chowdhury reflected on how essay-based books have gained popularity, and there has been a shift from fiction to nonfiction. 
"The youth today are much more interested in society and politics and they are curious to learn and participate. Books related to these topics have become more popular among readers, partly due to this interest, and partly due to a better understanding of subject matter," he commented. 
He also explained how writers have developed their styles, come up with new ideas and can frame their words better. "Alongside a change in reading preferences, I have also witnessed authors growing and developing their skills."
A similar pattern was noted by Jashim Uddin, publisher of Kothaprokash. In the last few years, nonfiction books have gained traction, and the diversity of genres have improved. Some of the most well-liked books were either works of translation, self-development novels or research-based books. 
"Authors now think about books that can be promoted all year-round, and have come out of the seasonal nature to present works that are widely accepted by a greater range of readers," he said. 
Over the years, the number of young readers has also substantially increased, and they have a growing demand for self-development books. It can be attributed to a subsequent change in the mentality of parents, who are now more willing to purchase books beyond academic requirements. 
It cannot be denied that the media plays a powerful role in providing a space for literary conversations. We need more conversations about books in the mainstream media. Earlier, magazines used to work for book promotions, but nowadays we do not see as many periodicals talking about books, or daily newspapers publishing Bangla book reviews as much as they used. In order to restore the festive atmosphere, the media should play a more active role in facilitating these conversations.
"One of my favourite Boi Mela activities is creating a list of books I look forward to", shared Mahbuba Shampa, a regular visitor. "When I first started visiting the fair in the 2000s, I would follow the newspapers and keep cutouts of ads and reviews so I could find these books at the fair". While this habit has not entirely disappeared, the newspaper cutouts have been replaced by screenshots of social media posts, and the internet has become an important part of book promotion and sales.
Shampa also talked fondly about her favourite stall, Sheba Prokashoni, which was the only publisher selling translated books at that time. "Sheba Prokashoni was our only outlet to Western literature and we could find all translated English classics at their stall. I remember reading some great novels from here, back in the days when translation was a new practice," she recalled.
A major highlight of Boi Mela is the children's corner, adorned with colourful stalls. In the past few decades, this part of the fair has seen the most changes, and is now a centre of attraction for a lot of young readers. Similarly, there have been dramatic changes in stall decor and book cover art. It almost feels like a new art sector, growing slowly with the Boi Mela, allowing creativity to flourish not only through words but brushstrokes, architecture, animation and craft. 
And then there was the change in location. Before shifting to the Suhrawardy Udyan, Boi Mela was arranged at the Bangla Academy premises. While the space was relatively smaller, it felt more cosy and welcoming. There was a festive atmosphere all throughout the month as there would be roadside stalls stretching from TSC to Doyel Chattar of the Dhaka University campus. These small stalls sold Indian books, handicrafts and other folk souvenirs. There used to be cassette players, and poem recitations used to welcome visitors to the fair premises. 
"When I think of Boi Mela, I think of the days when recitation used to be an artform. We were eager to not only buy new books, but alo hear these poems, buy their cassettes and posters," shared Ferdous Ara Rumee, another visitor who has been going to the Boi Mela for the past 25 years. Being an aspiring author herself, she also revealed how new authors have more opportunities and exposure now, as compared to a few years ago. 
The number of people visiting the fair has multiplied, but this cannot be attributed to a similar rise in the number of new readers. Boi Mela, being a cultural hub, is slowly transforming into a social gathering. Sumana Jhumur, who has been a regular visitor since 1990, thinks that a part of this crowd is perhaps not interested in the books but the fact that they are going through the stalls may inspire them to pick one. "What I miss the most about Boi Mela are the panel discussions and programs held by Bangla Academy. The audience has practically disappeared and it no longer feels the same," she added.  
There have been many prominent changes, but it does not come without growing concerns over the quality of books presented at the Boi Mela. While the quantity of stalls and published books have increased drastically due to technological advancement, a similar rise is not seen in the quality of the text itself, or the quality of editing, binding and printing. There is still a long way to go.