New books to buy at Boi Mela this week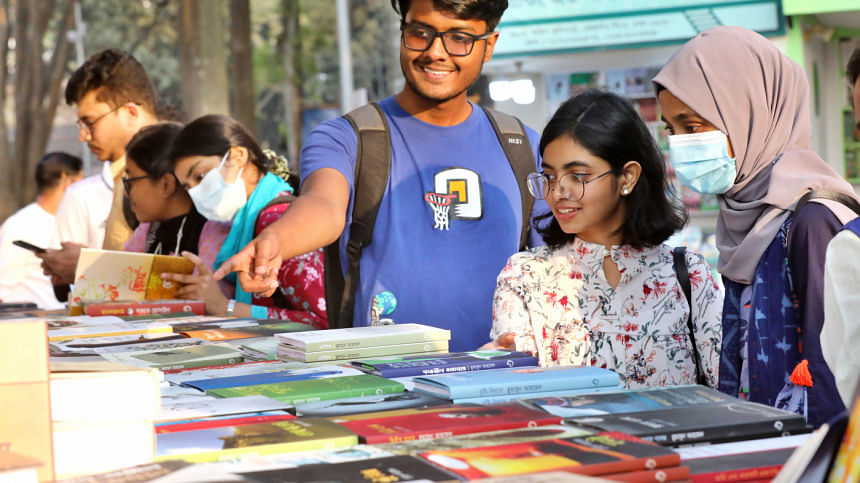 Shomoyer Kuashaye (The University Press Limited, 2023) 
The book is a collection of essays written in tribute to the prominent Indian historian Dipesh Chakrabarty, and discusses his thoughts and ideas on a plethora of issues from postcolonial theory to the impending calamity of climate change. Being a collaboration between writers across both sides of the border, the book seeks to add new perspectives to the mind of the reader and expose them to the groundbreaking ideas of Dipesh Chakrabarty. 
Africar Deshe Deshe (Nalanda, 2023) 
Habib Rahman 
As evident by the name, the book, which is the second travelogue written by the writer and journalist, Habib Rahman, is a collection of his essays that document his adventures across the continent of Africa. The chapters discuss him visiting iconic spots in the region at length, from the pyramids of Egypt to Marrakesh of Morocco. 
Bong Theke Crete (Onnesha Prokashon, 2023) 
Rubayet Hassan 
Set around 1570 BCE, this historical fiction describes the socio-economic and cultural aspects of Bengal as it was 3,500 years ago. While the story describes the lives of two people living thousands of miles apart—one of them in Bengal and the other in Crete—the book also discusses other civilizations and cultures, such as the Egyptian and Babylonian civilizations, making it an excellent read for history nerds.
Shonkhochur (Anyaprokash, 2023) 
Sadat Hossain 
Sadat Hossain's new novel, Shonkhochur, story narrates the story of the royal family of the fictional kingdom of Chandragarh. "Shonkhochur is not historical fiction, but rather written in the shadow of history," writes Sadat Hossain. 
Shomoyer Prekkhite 
Kazi Enayet Ullah 
This melancholic novel discusses the lives of two individuals—Javed Mahmud and his wife Rima Rahman. Having been forced into an incompatible marriage due to pressures from his family, Javed has a falling out with Rima, which leads to an unhappy separation. However, they soon face repercussions from society because of this. As they evaluate their choices, the novel exposes the bleak realities of how human desires can affect our lives in an adverse manner. 
Ghum (Boibazaar Prokashoni, 2023) 
Nayeem Hossain Faruque
Popular science writer Nayeem Hossain Faruque's new science-fiction novel tells the chilling story where all of humanity has slept for a period of 24 hours. As people wake up and come to the shocking realisation of what has happened, they frantically seek to understand the reasons behind it and the actual plot starts from there. 
Opodebota (Bidyaprokash, 2023) 
Rumana Boishakhi 
This mystery novel narrates the story of a house which is said to be involved with various occult practices—particularly one which involves arranging a feast for what is referred to as an Opodebota or anti-deity. As readers are warned about restrictions surrounding the house, such as the rooftop being off-limits and women not being allowed into the kitchen on certain days of the month, and about a history of human sacrifice to the anti-deity, the book tries to send shivers down the spine of readers.