Economics, literature, history: Akbar Ali Khan in books
Prayers and reminiscences have poured in as Professor Akbar Ali Khan, Bangladeshi economist, bureaucrat, and among the most prolific nonfiction writers in the country, was being laid to rest today in the capital's Mirpur Martyred Intellectuals' Graveyard. The writer and economist suffered a heart attack last night; following treatment at the Evercare Hospital, he passed away at 10:40 pm on September 9, 2022. 
Author of 17 books, Akbar Ali Khan, 78, had played an active role in the Liberation War of 1971, and gone on to serve as finance secretary, cabinet secretary, chairman of the National Board of Revenue, and advisor to the caretaker government in 2006-07, among other significant roles. 
"We were discussing a new title for his book, Friendly Fires, Humpty Dumpty Disorder, and other essays", Mahrukh Mohiuddin, Managing Director of University Press Limited, shared on social media. "'The Learned' [as Abba used to address him] would always be straightforward with his suggestions, as he has been in his long civil service career and other crucial roles assigned to him". 
Published by UPL in 2010, Friendly Fires, Humpty Dumpty Disorder, and other essays comprises 12 essays on the 'paradoxes' that make up Bangladesh's economy—the economic divides that exist despite ethnic and linguistic similarities, the issues of governance and economy in sectors including finance and water. Dr Khan unpacks the harmful effects of the government's benevolent measures, what he called 'Friendly Fire', as compared to the institutions and legal systems that have aged beyond repair, which he calls the 'Humpty Dumpty Disorder'. Through a discussion of reforms that apply not only to Bangladesh but to most developing countries, Khan offers insight into and recommendations for governance, public policy, finance, and economic development.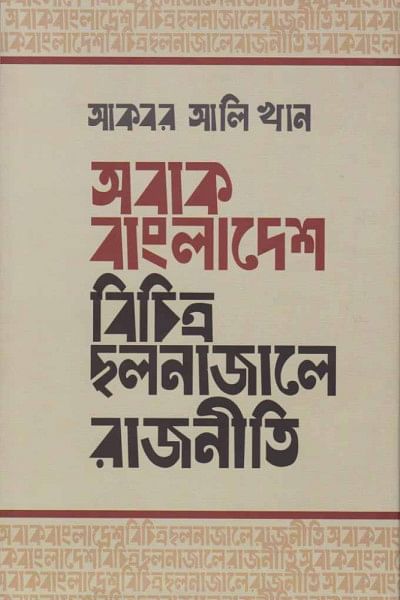 Yet more paradoxes are explored in Obak Bangladesh Bichitro Chhonjaler Ranjeeti (Prothoma, 2017). Bangladesh, a fragile yet lively country in its democratic movements. Economically, a country stricken with poverty and a problem-plagued state. A country that is fast developing, yet by international standards, falling behind in its governance and democratic system. 
As reforms to these political crises, Akbar Ali Khan advocates for awareness among the ordinary people and greater space for debate and critical thought, while offering in one collection, the data and information that readers would need for such an exercise. 
Earlier, and perhaps most significantly, in Discovery of Bangladesh: Explorations into Dynamics of a Hidden Nation (UPL, 1996), Dr Khan focused on Bangladesh's historical roots as "the last major nation-state to proclaim its identity" —a country that changed its statehood twice in less than 25 years. 
In exploring Bangladesh's roots, the book looks into the theoretical framework of this history, analysing the grassroots micro institutions and lack of "corporateness" in the structure of rural settlements. The latter, Dr Khan writes, contributed to the country's political fragmentation and instability. 
The book won Akbar Ali Khan the Justice Mohammad Ibrahim Gold Medal for being "the most outstanding work in the arts and humanities by the Asiatic Society of Bangladesh for years 1996-1998". 
According to UNB, Dr. Khan's first book, Some Aspects of the Peasant Behaviour in Bengal, was lauded as "a significant contribution to the growing body of economic history in South Asia" by The Journal of Economic History (USA). 
Elsewhere, in Gresham's Law Syndrome and Beyond: An Analysis of the Bangladesh Bureaucracy (UPL, 2015), Dr Khan examines how the Gresham's Law Syndrome, in which "the bad drives out the good", operates in Bangladesh due to its ineffective institutions and administration. How did these practices begin? 
Dr. Khan digs into the civil services, the complex quota system Bangladesh uses, recruitment and training of the country's workforce, discrimination in government, and the country's politics, before suggesting reforms in all the areas. 
Among such an unparalleled body of work on Bangladesh's economy are other titles, including Bangladeshe Budget Orthoniti, Daridrer Orthoniti: Otit, Bortoman O Bhobishshot, Ajob O Jobor-Ajob Orthoniti (2013), and Porarthoporotar Orthoniti (2000).
And in addition to economics, Akbar Ali Khan has also written about literature and language—in books including Durbhabona o Bhabna Rabindranath Ke Niye (Prothoma, 2019), Chabikathir Khoje: Notun Aloke Jibananander 'Banala Sen', and Banglay Islam Prochare Shafollo (Prothoma, 2020). 
In the latter, Khan traces the spread of Islam in Bengal, offering research into and discussing the rule of Muslim rulers, Sufism, and the influx of Muslims into the region. 
Speaking to Emran Mahfuz of The Daily Star about his memoir, Purano Shei Shei Diner Kotha (2022), Dr Khan said, "I have collected dates and information for this book from other biographies and newspapers, from books on the Liberation War, I have compared the information I remembered against those that I gathered from people I knew."
"In this book I've described the events from 1944 to 1973. One cannot conceive of my entire life or the history of Bangladesh from this one book. The second part of my memoir will cover the years after 1973."
Akbar Ali Khan was elected as a fellow of the Bangla Academy in 2010 for his contribution to the economics and history of Bangladesh. His namaz-e-janaza was held this afternoon at Gulshan's Azad mosque.