'Border Crossings' hopes to reconcile diasporic identities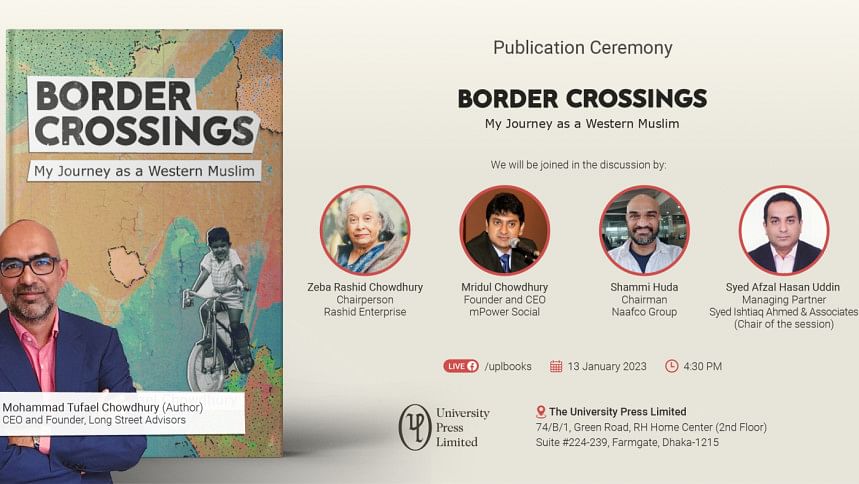 The University Press  Limited held the publication ceremony of the South Asian edition of Border Crossings: My Journey as a Western Muslim by Mohammad Tufael Chowdhury on Friday, January 13. 
Distinguished panel discussants for the publication ceremony were Zeba Rashid Chowdhury, the  Chairperson of Rashid Enterprise; the Founder and CEO of mPower Social, Mridul Chowdhury;  Chairman of Naafco Group, Shammi Huda; and Mohammad Tufael Chowdhury, the author of the  book in question and CEO and Founder of Long Street Advisors.
The discussion was chaired by Syed Afzal Hasan Uddin, Barrister-at-Law and a Managing Partner of Syed Ishtiaq Ahmed & Associates. 
Border Crossings is the story of the author's journey—his lifelong struggle to reconcile the  British, Asian, and Muslim sides of his identity, constantly dealing with the mistrust of Westerners alongside the hypocrisies of his own community and their misconception of Islam.
Syed Afzal Hasan Uddin says of first generation immigrants that they—who are already grappling with the duality of their multifaceted identities—were not seen as being Bengali enough by their parents, nor were they seen as Western enough by their friends [abroad]. "What the writer does in his book", he added, "is, he shows that ultimately this duality can coexist."
The author took some time to read excerpts from his book and the panelists took turns in discussing the book's themes, events, and ideas portrayed. There also a Q&A session afterwards.
This timely book echoes the experience of thousands of Western Muslims who, since the tragedy of 9/11, have  been subjected to a constant barrage of questions that cast doubt over the goodness of their faith while powerfully rejecting the poisonous narrative that Muslims can no longer be trusted as honest citizens of the West. 
"So there I was, the subject of [...] unrewarding no-win upbringing. Coping with being the outsider a lot of the time. Stuck between incompatible worlds", author Mohammad Tufael read from the chapter titled 'British, not Western'. 
The event was broadcasted live from the UPL's Facebook page and via Zoom.