Bookworm hosts reading session of "Aasma-i-Noor: The Cursed Jewel" by Sudipta Sen Gupta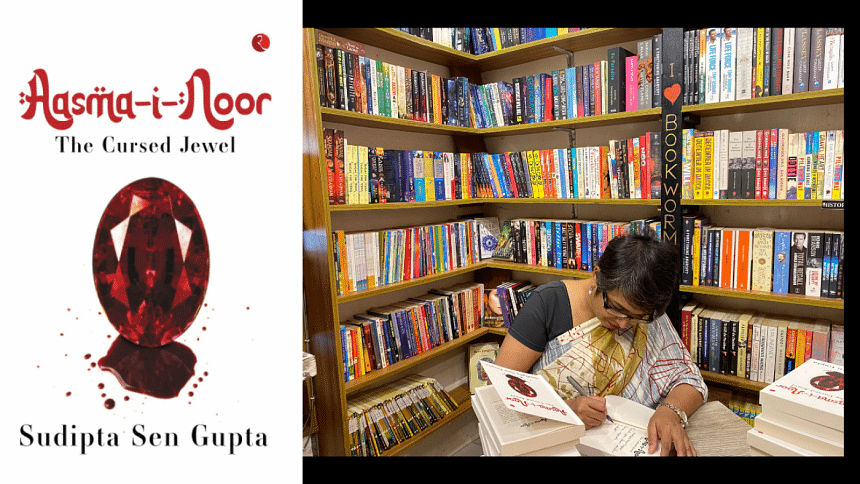 Bookworm Bangladesh hosted a reading session of Sudipta Sen Gupta's book Aasma-i-Noor: The Curse Jewel (Rupa Publications, 2022) on July 29 from 4pm to 6pm. The event started with an informal meet-and-greet with the author, followed by a reading session and book signing. 
The more casual meet-and-greet took place first at the newly-opened cafe in the Bookworm shop, where Sen chatted about her life with her readers in a more intimate setting. During the conversation with the audience, the author shared about her life being an associate professor, teaching Management, raising two girls, and her love for writing over a cup of coffee and snacks. 
Sudipta Sen Gupta flew in from New Delhi this week to attend the reading session arranged by Bookworm Bangladesh. 
"I usually come to Dhaka for two things—one, to eat and the second, to buy sarees. This time, I have come to promote my new book Aasma-i-Noor. But whatever might be the "work" part of the visit, I must eat", rejoiced Sen when asked about her trip to Bangladesh around this time. 
Aasma-i-Noor follows the story of a secretly guarded cursed jewel. The thrilling historical fiction starts with a modern day search for the jewel, and it goes back in time to the Battle of Plassey to follow the jewel's cursed and violent history throughout ages. The modern day search for the jewel involves a British research scholar from London and an Indian historian from Calcutta.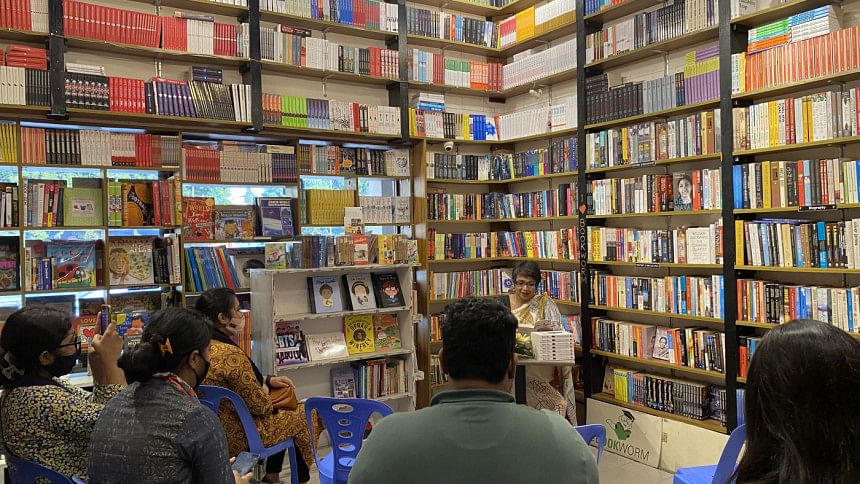 At around 5pm, Bookworm's social media coordinator, Ariz Hoque, formally initiated the reading session. The author then read out the first chapter from her book to a full house; the crowd comprised both young and old enthusiastic readers. 
When asked what the readers can expect from the book, the author replied, "It's historical fiction. However, it's difficult to categorise a book like this because there's also mystery, a hunt for treasure. So, it's hard to segment it finely but largely, it is historical fiction. The book spans across several genres". 
The author also shared her experience on the event and meeting the readers. "It's an intimate event. I got to know each and every person who turned up well. From the littlest in attendance who is just 7 years old, to a grand old lady whose age we must not mention—it was a lovely evening. It was not just about interacting with readers but interacting with people who like the sort of book I like".
The event ended with a book signing and a fun-filled photo-session with the author. 
Aasma-i-Noor: The Cursed Jewel is available to order at Bookworm Bangladesh. 
Usraat Fahmidah is a freelance journalist and writer. You can reach her on twitter @usraatfahmidah