Book charities to donate to this Eid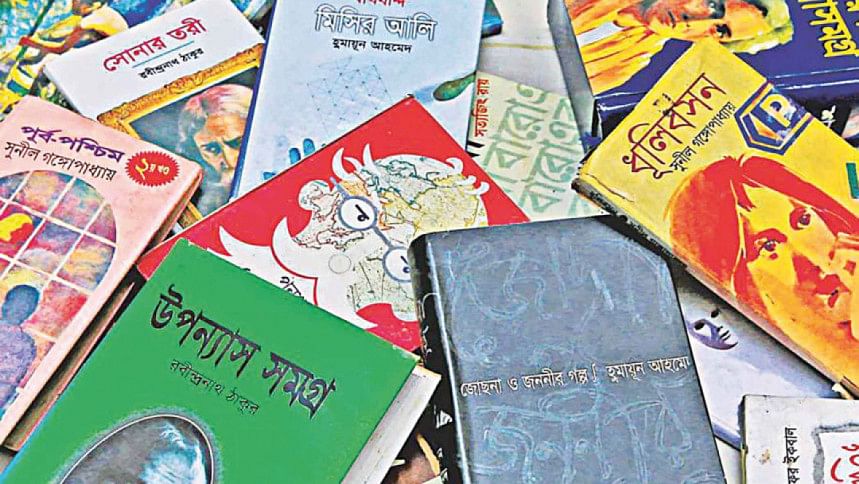 Eid is a season of giving and with the last stretch of Ramadan coming up, many of us are looking for places to donate to and charities to support. 
By donating in book related charities, we can share our joy of reading with others, while promoting literacy among the youth. Readers are also aware that over the last two years, the pandemic has disrupted the businesses of struggling booksellers, many of whom are still reeling from their losses. 
Thankfully, there are organisations that are helping booksellers, book readers, and both. Here are a few that we can support.  
Pashe Achi Initiative, a non-profit organisation dedicated to working for people living under the poverty line, has two book donation projects that are currently helping booksellers and readers alike. 
Project Gronthomongol works to help the struggling booksellers from Nilkhet by arranging sales of their books online. They successfully match customers to the books that are for sale, thereby bridging the technological gap many booksellers cannot cross. The initiative's other book related project builds and maintains small libraries in rural areas across the country. This gives children from underprivileged areas the opportunity to read and borrow books.  
Tahmid Hassan, Founder of Pashe Achi Initiative says, "People have books lying around their homes which they are no longer reading. Some people out there can't afford books. So if we can simply make our unused books useful, another person will gain access to knowledge which they otherwise would not have."
To donate, you can call them at 01975-888855 or message their Facebook page. For book donations, they will come and collect books directly from your home. You can also drop off donations at their office in Dhanmondi. Pashe Achi Initiative accepts monetary donations for funding their projects as well. 
AIM Initiative Foundation's project, Sobar Jonno Boi (Books for All), has a massive goal: collect 10,000 books as donations and build 10 libraries in 10 different disadvantaged schools across Bangladesh. The foundation also has a free school where they provide education to 150 students under the national curriculum. 
Tahiya Islam, Executive Director of Media and Publications of the foundation, says, "I believe everyone has the right to an education. Not only that, every child has the right to read books as books enable children to imagine, explore and be creative." 
For donations, AIMS accepts any books—as long as they're non-academic. They are accepting monetary donations as well. You can donate to their bank account, Bkash or Nagad and they will buy used books from Nilket with the money. Information can be found by calling them at 01770-160129. 
You can also donate for a bookshelf. Each bookshelf costs Tk 10,000 to make and transport to a library, so a donation of the same amount will cover the cost of one shelf for a library.  
Bidyanondo Foundation is making strides in promoting literacy among the underprivileged youth. They have two Unmukto (open) libraries in Dhaka and Chittagong where anyone can browse through books. 
Bidyanondo also has a "brahmoman" or travelling library in the hilly regions of Rangamati. There are no permanent libraries in the area, so this initiative gives the children of the locality access to one. Books can be donated for this project as well. 
Biddyanondo's Head of Communications, Salman Khan Yeasin, says, "We need to read books in order to harbour cultural talent amongst our youth and to cultivate literacy. People who read have good hearts. These days, people learn things by seeing them online. Reading is always great; we witnessed it back in our childhoods when we used to learn by reading." 
Book donations are welcome for their open libraries. You can drop off books at their office in Pallabi or send them through courier. You can also donate money for this project by sending them donations through Bkash. Information can be found by calling them at 01878-116234. 
Wherever we choose to donate, Eid is about sharing our happiness with others. Here's to hoping our sense of community allows other people to build a reading habit.  
Mrittika Anan Rahman is a Sub-editor of SHOUT and can be reached at [email protected].