Pashe Achi Initiative distributes books in exchange for plastic waste
In the latest initiative of Gronthomongol, a project aimed at rescuing the Nilkhet book market from the economic blows brought by the pandemic, youth organisation Pashe Achi Initiative are distributing books among readers in exchange for plastic waste.
The first event was conducted on November 19 at Rabindra Sarobar in the capital. The 350 books distributed that day included second hand copies collected from donations as well as new titles bought from booksellers under project Gronthomongol.
The event witnessed the active participation of street children, who wanted to read books but had no money to purchase them. These children deposited plastic waste from around the venue and collected their favourite books in return.
"The primary goal of this campaign is to raise awareness among people about the alarming rise of plastic waste which negatively affects our environment. At the same time, we wanted to promote the habit of reading," shared Tahmid Hasan, founder of the organisation. The campaign also promotes an opportunity to explain the importance of reducing, reusing, and recycling for a sustainable environment.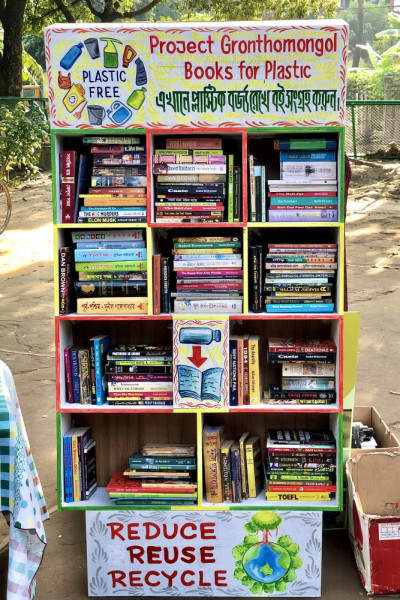 The response they received at the first event has been overwhelming. "There was a person who was visiting the venue and came by our campaign stall. He later went to his home and brought almost 5 kilograms of recyclable materials to support the campaign," Tahmid said.
Pashe Achi Initiative intends to expand this campaign by arranging events in different schools, colleges, universities and restaurants. Since the first event was based on impromptu participation, they will be promoting the upcoming ones through social media platforms in an attempt to engage more people. They urge people to support this initiative by donating new and old books.
The second event took place on December 4, drawing in around 150 people. The organisers specified a cap of 250 grams of reusable materials and collected over 30 kilograms of plastic waste from the visitors.
The third event will be held next weekend at the same venue. 
Maisha Islam Monamee is a medical student who likes reading, scribbling, and blogging. Follow @monameereads on Instagram.