Arshi Mortuza explores mental health and identity crises in 'One Minute Past Midnight'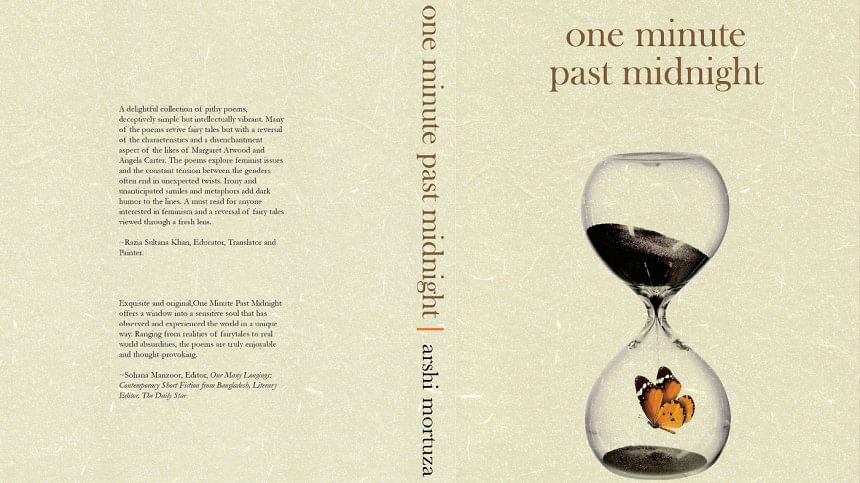 Reversal of fairy tale tropes and themes of mental health and alienation run dominantly across One Minute Past Midnight (Nymphea Publications, 2022), a debut collection of poetry and prose by poet and teacher Arshi Mortuza. 
Currently teaching English at Southeast University, Dhaka, Arshi Mortuza has completed one Master's degree in English Literature at the University of Liberal Arts, Bangladesh (ULAB) and another in Cultural Studies at Queen's University at Kingston, Canada. 
The pieces in this collection, she tells The Daily Star, are an attempt to reconcile with pieces and experiences of her childhood—"a variegated identity crisis" she became aware of as a result of her mother, a diplomat, travelling often. As a result, Mortuza often found herself as a "third culture" individual in her surroundings. Being a student of English literature, the postcolonial texts she read struck a chord. "I could", she shares, "relate to the textual longing and belonging. My collection explores themes in which I am trying to navigate my identity as the racial or cultural other."
Her teen years were also spent grappling with depression and anorexia, themes that would go on to reflect in her work. "I am an avid reader of fairy tales", she said, "and am particularly drawn to its subliminal messages and morbid undertones". She used these as metaphors to tell her story.
Some of her poems in the book, for instance, "Nothing Like Kipling's 'If'" and "Nothing Like Van Gogh's 'Starry Night'", have a certain subversive tone. The author notes that it was her way of expressing that she is weary of celebrating the works of "ancient white men". "I hope my work comes off as feminist and satirical", Mortuza says. 
The book was launched at the Amar Ekushey Boi Mela 2022. Arshi Mortuza also performed a reading of the verses at the Gulshan Boi Mela 2 held in early March. The reading was aired live on the Facebook page of the Department of English and Humanities, ULAB. 
One Minute Past Midnight is available for purchase on Rokomari.com. It can also be found at Nymphea Publication's office at 205/1/A, Tejgaon–Gulshan Link Road.