8 trips to the Boi Mela this year. Here's what I thought.
On March 17, the Amar Ekushey Boi Mela 2022 ended…and along with it, my last month's entire salary.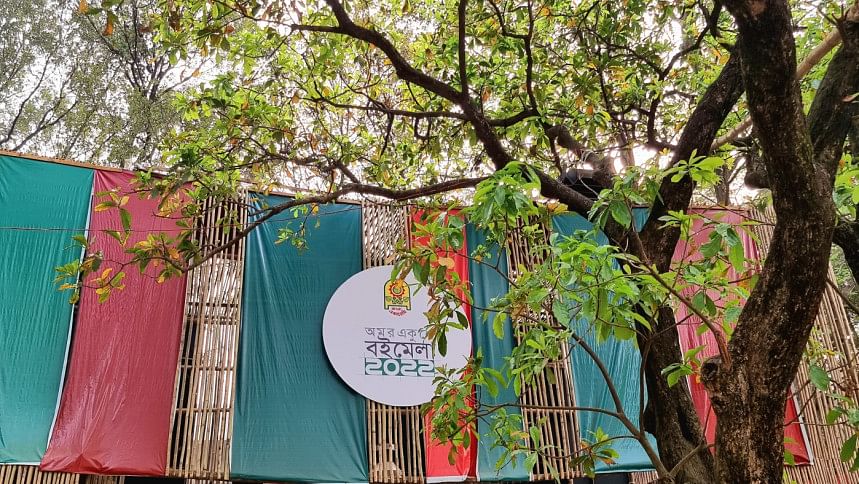 I sat down to write this piece after shooting a quick, almost-guilty glance at the pile of 62 books that I bought at this year's book fair. I say "almost'' because I still haven't finished reading the ones that I bought from the Boi Mela of 2018. The other, non-guilty part of me is inclined to the delicious hope that I will never run out of Bangla books to read in the next two-three years. If you asked me if I have any regrets, my answer would be a solid 'no'. 
This year's Boi Mela was special to me. Growing up, I was never too sold on the hype around the fair—there were always too many crowds; I was never sure about which books to buy; had no idea how to filter out the good ones from the bad; and I just didn't know anyone who would guide me in that regard. Fortunately, though, when I started hosting my radio show 'Boi Pechal', I got to interview many writers, publishers, translators, and readers. That  increasingly piqued my enthusiasm for the book fair, because now, I had the necessary information to manoeuvre through my "ordeals". And, I realised, the fair would allow me to understand the literary scene better for the sake of my show—I would get the opportunity to explore more guests for the interviews, and I would get to know writers and publishers and their literary lives better.
But then, the pandemic happened.
Last year's Boi Mela was "lit", so to speak—but more like a candle in the wind that was extinguished rather than the undying flaming torch it was always meant to be. And to make matters worse, my radio show was impacted too because there was no way of conducting one-on-one interviews during the Covid-19 restrictions.
Finally—eventually—the 2022 Boi Mela came. And that too just at the end of another wave of Covid cases. Things were uncertain but the fair took place from mid-February to mid-March without any major hindrance. This time, however, I did not have any professional impetus to go on; it was personal this time. I wanted to meet a lot of people I hadn't met in a long time, I wanted to buy books that I knew were going to be good. I wanted to spend time with people who shared with me the common passion of anything and everything related to books—some of whom were publishers and writers; some, avid readers and reviewers; and some, bookstagrammers and booktubers—people who are connected to each other like pages of a hardcover by its spine.
It was this experience of meeting with these people, grabbing a bite and a cup of tea together, getting to know their ideas about newly published books, and candidly chatting with them about life, that ultimately made my visit worthwhile.
We all suffered to various degrees during the pandemic; life has not been the same since. There's that ever-lurking fear of another unforeseen Covid wave striking at any given moment. So I wanted to make the most out of this book fair by going there as much as I could. To reiterate, it was personal indeed.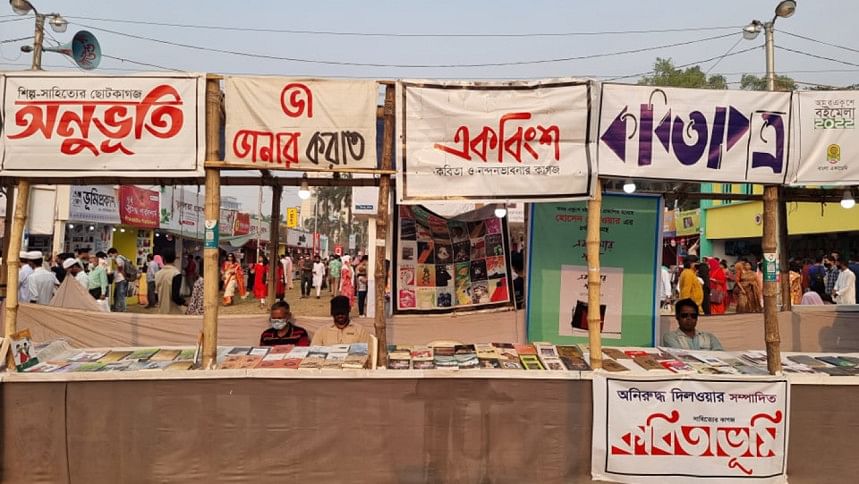 It's true that even during lockdown, I could order books online to read, but for me, nothing beats the experience of buying a book from a book fair stall and having it signed by the author, clicking a nice photo with them, and showing it off to fellow book-lovers. A visit to the fair is always met by the exciting question, "Hey, what book did you buy today?"
I went to the fair this time about eight times, and not once was I bored. The stalls could have been better placed, as they were confusing and difficult to find. It took me about three to four visits to just get an idea of the whole map. At first I thought it was I who had a poor sense of direction, but then I observed that a number of fellow bookworms were facing the same problem. It would have been easier to navigate the fair if the stalls had their serial numbers prominently displayed on their respective overhead banners in bold, legible text.
Then again, I couldn't help but think that getting lost and seeking out a stall is an adventure all its own.
The highlight of the fair for me, however, was when I saw people exchanging books. Why do people do that? Why does it feel so good to give someone a book and receive one in return?
I cannot pinpoint a reason behind this. But I do know that the positive synergy that this gifting of books creates is something that is selfless, wholesome, and uplifting. I believe if you took a closer look at the book fair, you would see that in a world of short attention spans and screen addiction, books lovers keep on prevailing—the love for Bangla books keeps on burning bright and the capacity to inspire each other to read is as undying as ever.
Now that this year's Amar Ekushey Boi Mela is over, I know I'm going to feel empty on the upcoming weekends. And even though a part of me is happy that I won't go berserk over wanting to spend all my savings, I will dearly miss the experiences I had with the people I like and respect, who share the same passion for books and Bangla literature. It is now time to wait for the Amar Ekushey Boi Mela 2023.
Kaisar Kabir is a pop-culture enthusiast and a former radio show host currently earning dough in the content industry.