Cyclone Amphan: over 24 lakh people evacuated, state minister says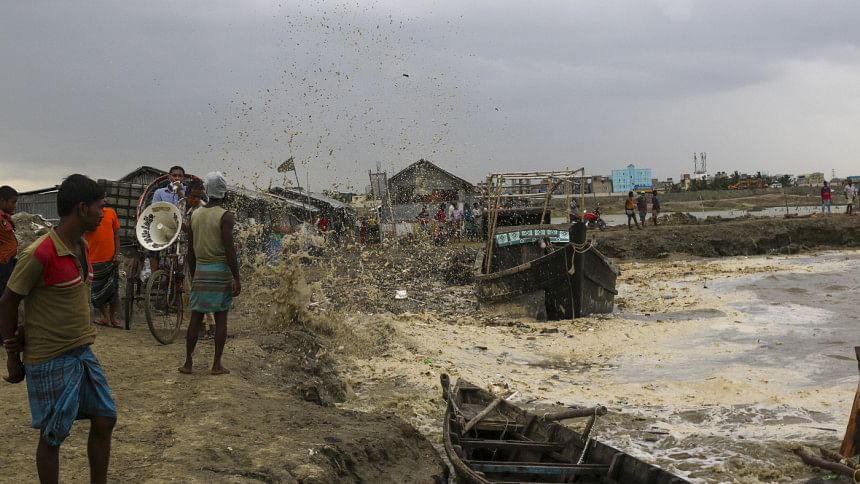 The government has evacuated about 24,08,819 people in coastal districts of the country as super cyclone "Amphan" is likely to make landfall in Bangladesh tonight.
State Minister for Disaster Management and Relief Dr Md Enamur Rahman said people have been taken to 14,636 permanent and temporary cyclone centres until this evening.
Besides, a total of 5,20,997 livestock were taken to the shelters, the state minister told The Daily Star.
OVER 1 LAKH EVACUATED IN CHATTOGRAM DIVISION
At least 1,35,811 people have been evacuated to cyclone centres in six coastal districts of Chattogram division.
People have also moved 91,686 livestock to 3,876 shelter centres, our staff correspondent reports.
Khondokar Md Ektiar Uddin Arafat, staff officer of Chattogram divisional commissioner, said people from Chattogram, Cox's Bazar, Feni, Noakhali, Chandpur and Lakshmipur are considered most vulnerable. 
In Noakhali, 28,173 people took shelter in a total of 450 cyclone shelters while 16,700 people were accommodated at 325 centres in Chandpur.
In Chattogram district, a total of 64,213 people were evacuated to 1,951 cyclone centres and in Cox's Bazar 9,657 took shelter at 797 centres.
Besides, district administrations evacuated 14,885 people to 252 cyclone centres in Lakshmipur while 2,183 people at 101 cyclone centres in Feni. 
Chattogram has been experiencing moderate rain since last night, prompting the district administration to keep prepared at least six teams led by the executive magistrate to evacuate people from hilly areas.
At least 10,000 people live at the foothills of Chattogram city -- raising fears of landslide and possible deaths.