Police constable beaten up during Shariatpur hartal, 2 held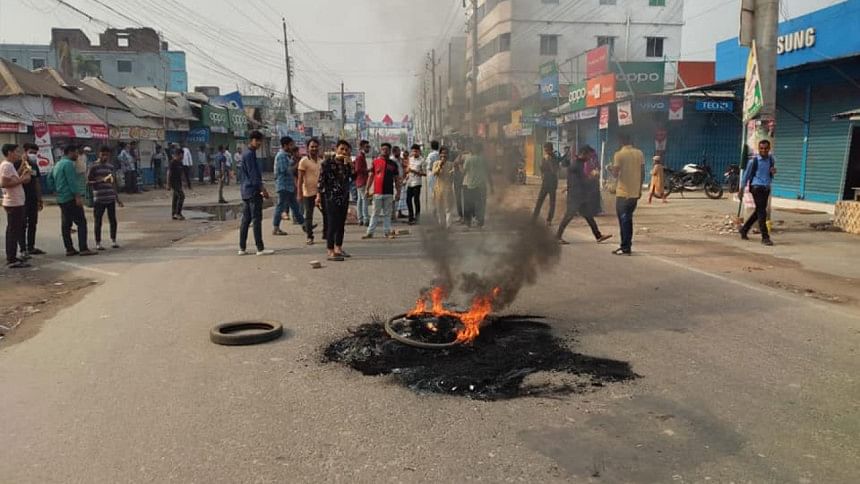 Two men were detained by police after a constable was assaulted near Shariatpur court during a half-day hartal called by the local Awami League today.
Injured Bulbul Ahmed, a constable of Shariatpur district police, was admitted to Sadar Hospital for treatment, our local correspondent reports.
Local AL have been observing a hartal to express dissatisfaction over yesterday's judgement in a case filed over the murder of public prosecutor Habibur Rahman and his brother Monir Hossain.
The hartal was called by Shariatpur Municipality Mayor Parvej Rahman John, son of Habibur Rahman.
Constable Bulbul told The Daily Star, "Some 25-30 agitators stopped my motorcycle and surrounded me in front of the court around 9:30am.
"I was going to the court from the district police lines on official duty," he said, adding that the protesters indiscriminately beat him even though he said he was a police member.
Contacted, Md Aslam Uddin, officer-in-charge of Palong Police Station, said, "Two men -- Forhad Hossain Dhali and Sohel Rana Joy -- were detained in connection with the attack on Bulbul."
A case was filed in this regard, the OC added.
"Shariatpur municipality mayor Parvej Rahman John and his aggrieved followers yesterday called a half-day hartal for today to protest a verdict in the case filed over murder of PP Habibur Rahman and his brother Monir Hossain," said Anal Kumar Dey, general secretary of Shariatpur district unit of AL.
"We, along with some local leaders and activists, participated in the hartal," he also said.
"I do not know anything about the attack on a policeman, but I will look into the matter now," Anal added.
During the hartal, the protesters burnt some tyres in different places of Shariatpur municipality and barred some vehicles carrying patients, police and local traders.
While addressing a protest rally, mayor Parvej Rahman, son of PP Habibur Rahman, claimed that some main culprits were acquitted of the charges.
They will challenge the judgement in a higher court, he added.
Read More Shariatpur Public Prosecutor Murder in 2001: Six sentenced to death