Zafrullah gets 2 weeks to reply on show cause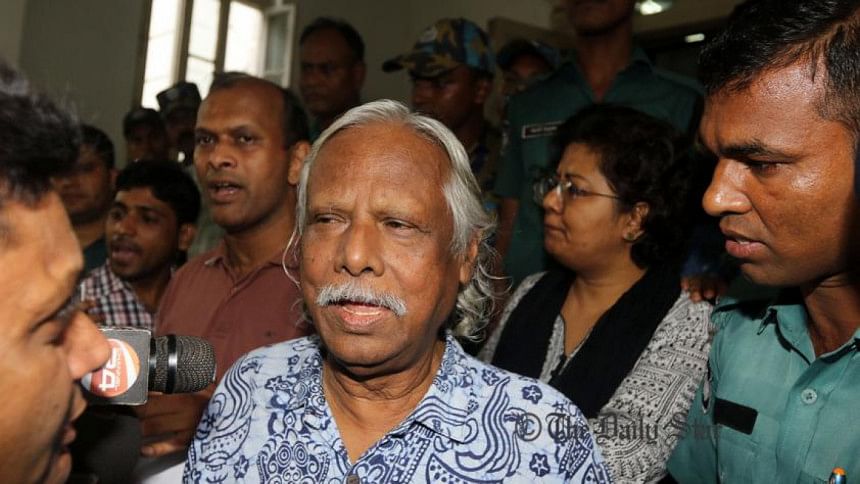 A tribunal today gave Gonoshasthaya Kendra founder Zafrullah Chowdhury two more weeks to reply on a show cause issued over his "derogatory" comments against a verdict of the tribunal.
The International Crimes Tribunal-2 led by Justice Obaidul Hassan fixed August 5 for Zafrullah to reply after his lawyer moved a time petition.
Abdul Based Majumder, Zafrullah's lawyer on behalf of his client filed the petition today. Freedom fighter Zafrullah appeared before the court around 10:30am.
On July 12, moved by a petition, the tribunal ordered Zafrullah to appear before it on July 22 (today) and show cause as to why he should not be punished for "scandalising" the tribunal.
Earlier on July 6, five individuals -- three freedom fighters and two organisers of Gonojagoron Mancha -- filed the petition for initiating contempt proceedings against Zafrullah for his comments of June 10 when the same tribunal found him guilty of the same offence.
This is the third time Zafrullah, also a freedom fighter, is facing contempt of court charges for his comments over war crimes tribunals and judges. If found guilty, Zafrullah may face highest one year imprisonment or up to Tk 5,000 in fine or both.
The court imprisoned him at the courtroom for an hour and fined him Tk 5,000 for criticising the punishment of Bangladesh-based UK journalist David Bergman for contempt of court.