Woman dies unable to bear crop damage in flood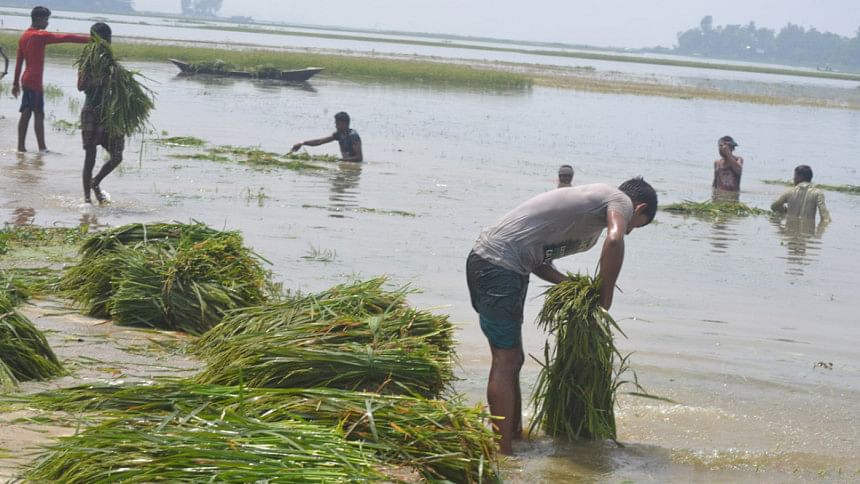 A woman farmer has died in Habiganj's Baniachang upazilla unable to bear the loss caused by the flash flood in the district after days of intense rainfall.
Mosammat Tarabanu, 45, was weeping for hours aftershe found that the flood inundated her crop, Sahid Mia, union parishad member of Perlarkandi, said.
She suffered a cardiac arrest while weeping last night, he said.
Tarabanu, with a family of five including a disabled husband, a son and two daughters, had cultivated two-and-half acres of land with loan from a local non-government organisation.
The flash flood, caused by last month's intense rainfall, had damaged crops of most of the farmers in the north-eastern Bangladesh.
When she visited the piece of land in the haor yesterday, she found out that all her crop was washed away, Abdul Hamid, Tarabanu's neighbour, said.
"She could not take the shock," he said.
Tofazzal Sohel, general secretary of Bangladesh Paribesh Andolon, Habiganj unit, siad: "I visited most of the Haor under Habiganj. I seen farmers face unexpected loss."
Boro crop has been inundated due to rise in water level in Habiganj especially in Baniarchang Upazila's Haor, he said.
He said he never saw this much rain in Chaitra (the month of Bangla year-end).
"The death of Tarabanu is extremely tragic. People all over the Haor region are wailing over the loss," he said. "Pahela Baishakh will not bring any smile to their faces."